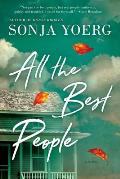 Author: Sonja Yoerg
Series: None
Publication Date: May 2, 2017
Publisher: Berkley
Pages: 368
Obtained: publisher via NetGalley
Genre: Contemporary Fiction, Contemporary Romance
Rating: 4/5
Bottom Line: A look into the history of mental illness as it effects 3 generations of women


G

rab,

J

ust get it at the library, or

R

emove from your TBR list? Library
Summary:
Vermont, 1972. Carole LaPorte has a satisfying, ordinary life. She cares for her children, balances the books for the family's auto shop and laughs when her husband slow dances her across the kitchen floor. Her tragic childhood might have happened to someone else. But now her mind is playing tricks on her. The accounts won't reconcile and the murmuring she hears isn't the television. She ought to seek help, but she's terrified of being locked away in a mental hospital like her mother, Solange. So Carole hides her symptoms, withdraws from her family and unwittingly sets her eleven-year-old daughter Alison on a desperate search for meaning and power: in Tarot cards, in omens from a nearby river and in a mysterious blue glass box belonging to her grandmother. An exploration of the power of courage and love to overcome a damning legacy, All the Best People celebrates the search for identity and grace in the most ordinary lives. ~amazon.com
Review:
With mental illness at the forefront of a great many discussions in the last year,
All the Best People
, comes at a time when we need to be reminded how far we've come and yet how far we have to go. The story is told in alternating view points by 3 generations of women in the same family: Solange, Carole and Allison.
As we delve in to each of their stories and view points, it is interesting to see how much their lives have been effected by either being afflicted or watching those you love deteriorate because of a disease. My heart went out to Allison because she was at a point in her life where she really needed her mother and her mother was struggling with her own issues that she wasn't sure how to talk about. Her aunt was even less help because she was so caught up in her own life, she couldn't see or perhaps didn't care that her sister was suffering.
Unfortunately, Solange's story was probably fairly typical for back in the 20's and 30's. Where if a wife didn't conform to her husband's wishes or brought shame up the family, he could institutionalize her with no way of getting out. So she was put in a mental hospital for being strong willed and wanting out of her marriage, with no way out. The things they did to that woman in the name of science and treatment were outrageous! They most definitely did more damage then the "hysteria" she was admitted for having.
I adored how great Walt was with Carole when it all finally came to a head. He didn't berate her or scold her, he was loving and supportive. I don't think she was ever afraid that he wouldn't be but she didn't know how to talk about it. Even since the 70s, much has changed in how we treat mental illness, especially pharmacology. We still have a long way to go but progress isn't made overnight, either.
If you are looking for a book that addresses how mental illness can affect families, then look no further than
All the Best People
.

Google+