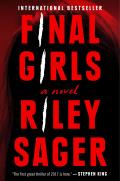 Author: Riley Sager
Series: None
Publication Date: July 11, 2017
Publisher: Dutton
Pages: 352
Obtained: publisher via Edelweiss
Genre: Psychological Thriller, Suspense
Rating: 4/5
Bottom Line: A fast-paced thriller that will keep you turning the pages until the end


G

rab,

J

ust get it at the library, or

R

emove from your TBR list? Grab
Summary:
Ten years ago, college student Quincy Carpenter went on vacation with five friends and came back alone, the only survivor of a horror movie–scale massacre. In an instant, she became a member of a club no one wants to belong to—a group of similar survivors known in the press as the Final Girls. Lisa, who lost nine sorority sisters to a college dropout's knife; Sam, who went up against the Sack Man during her shift at the Nightlight Inn; and now Quincy, who ran bleeding through the woods to escape Pine Cottage and the man she refers to only as Him. The three girls are all attempting to put their nightmares behind them, and, with that, one another. Despite the media's attempts, they never meet. Now, Quincy is doing well—maybe even great, thanks to her Xanax prescription. She has a caring almost-fiancé, Jeff; a popular baking blog; a beautiful apartment; and a therapeutic presence in Coop, the police officer who saved her life all those years ago. Her memory won't even allow her to recall the events of that night; the past is in the past. That is, until Lisa, the first Final Girl, is found dead in her bathtub, wrists slit, and Sam, the second, appears on Quincy's doorstep. Blowing through Quincy's life like a whirlwind, Sam seems intent on making Quincy relive the past, with increasingly dire consequences, all of which makes Quincy question why Sam is really seeking her out. And when new details about Lisa's death come to light, Quincy's life becomes a race against time as she tries to unravel Sam's truths from her lies, evade the police and hungry reporters, and, most crucially, remember what really happened at Pine Cottage, before what was started ten years ago is finished. ~amazon.com
Review:
Let's get this out of the way first,
Final Girls
would be a fantastic film. It's part psychological thriller, suspense and slasher film. Thank goodness for most of the book that last part is alluded to and not described in detail. Quincy has been a survivor of a massacre for 10 years. She's powered through the aftermath and built a life for herself in NYC. She's got a popular food blog and a live-in boyfriend who she thinks is going to propose.
Then her life begins to slowly unravel as Lisa is found dead and Sam, who has been off the grid for years, shows up at her house. The life that Quincy has so carefully crafted is starting to fray at the seams as Sam pokes at the very things that she has tried to bury. Sam wants to make Quincy remember what happened at Pine Cottage but why? Why is it so important to her that Quinn remember? What's in it for Sam? It certainly isn't Quinn's mental health. As Sam causes Quinn to unleash her rage, it will have consequences for both of them and set in motion things that can't be stopped.
There are a few twists and turns throughout the book with puzzle pieces coming together. Honestly I felt that Ms. Sager was moving us in one direction with the story while waiting for the other shoe to drop. Throughout the whole book I kept thinking that I should really be figuring it out a lot quicker than I did. The ending to me though, wasn't the biggest reveal and twist; that came earlier for me.
Quincy is a complex character. At times you truly feel sorry for her and want her to be ok and then other times you wonder if you even know her. You want her to be able to be her true-self but you also begin to doubt her and what she's forgotten. Has she really forgotten or is she just protecting herself? It's understandable that she doesn't let people in very easily. So it irked me that she so willingly opened her house and emotions up to Sam. The only thing they shared was a similar experience but other than that, their lives were vastly different.
You will turn the pages very quickly during this novel and you won't want to put it down until it's over. I highly suggest you start it when you have several hours to devour it.
Final Girls
is the epitome of a summer read because it sucks you in and doesn't let you go. I can't wait to see what Ms. Sager writes next.

Google+