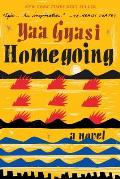 Author: Yaa Gyasi
Series: None
Publication Date: June 7, 2016
Publisher: Knopf
Pages: 320
Obtained: Library
Genre: Historical Fiction
Rating: 5/5
Bottom Line: Grab this book immediately. It is special.


G

rab,

J

ust get it at the library, or

R

emove from your TBR list? Grab
Summary:
The unforgettable New York Times best seller begins with the story of two half-sisters, separated by forces beyond their control: one sold into slavery, the other married to a British slaver. Written with tremendous sweep and power, Homegoing traces the generations of family who follow, as their destinies lead them through two continents and three hundred years of history, each life indeliably drawn, as the legacy of slavery is fully revealed in light of the present day. Effia and Esi are born into different villages in eighteenth-century Ghana. Effia is married off to an Englishman and lives in comfort in the palatial rooms of Cape Coast Castle. Unbeknownst to Effia, her sister, Esi, is imprisoned beneath her in the castle's dungeons, sold with thousands of others into the Gold Coast's booming slave trade, and shipped off to America, where her children and grandchildren will be raised in slavery. One thread of Homegoing follows Effia's descendants through centuries of warfare in Ghana, as the Fante and Asante nations wrestle with the slave trade and British colonization. The other thread follows Esi and her children into America. From the plantations of the South to the Civil War and the Great Migration, from the coal mines of Pratt City, Alabama, to the jazz clubs and dope houses of twentieth-century Harlem, right up through the present day, Homegoing makes history visceral, and captures, with singular and stunning immediacy, how the memory of captivity came to be inscribed in the soul of a nation. ~amazon.com
Review:
You know how some books get a lot of hype, you read them and wonder what the hype is all about? Well,
Homegoing
is NOT one of these books. This book is so powerful and moving. The writing is striking and lyrical. It is a book that should not be missed.
We are first introduced to Effia and her life in her village and then in the Castle. How a family secret changes the course of her life and her descendants. Then we meet Esi who has a completely different fate in the Castle than Effia and how that affects her descendants. Which begs the question, do we have control over our own lives or is it already written? Do the choices of our ancestors affect our lives?
I loved and learned something different from each of these short stories. You never fully go back to the characters you are introduced to but you learn more about them from their offspring and their stories. You see history through different eyes and perhaps open your eyes to a different view.
Ms. Gyasi has a true gift. Her storytelling is wonderful. Her use of words evoke strong feelings towards the characters. I really can't wait to see what she has for us readers next. This is a book that you need to experience yourself and then recommend to everyone you see. So, go grab
Homegoing
now.

Google+