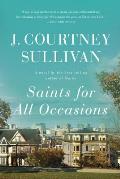 Author: J. Courtney Sullivan
Series: None
Publication Date: May 9, 2017
Publisher: Knopf
Pages: 352
Obtained: Library
Genre: Contemporary Fiction
Rating: 4.5/5
Bottom Line: A wonderful family-centric novel about the secrets we keep


G

rab,

J

ust get it at the library, or

R

emove from your TBR list? Grab
Summary:
Nora and Theresa Flynn are twenty-one and seventeen when they leave their small village in Ireland and journey to America. Nora is the responsible sister; she's shy and serious and engaged to a man she isn't sure that she loves. Theresa is gregarious; she is thrilled by their new life in Boston and besotted with the fashionable dresses and dance halls on Dudley Street. But when Theresa ends up pregnant, Nora is forced to come up with a plan—a decision with repercussions they are both far too young to understand. Fifty years later, Nora is the matriarch of a big Catholic family with four grown children: John, a successful, if opportunistic, political consultant; Bridget, quietly preparing to have a baby with her girlfriend; Brian, at loose ends after a failed baseball career; and Patrick, Nora's favorite, the beautiful boy who gives her no end of heartache. Estranged from her sister, Theresa is a cloistered nun, living in an abbey in rural Vermont. Until, after decades of silence, a sudden death forces Nora and Theresa to confront the choices they made so long ago. A graceful, supremely moving novel from one of our most beloved writers, Saints for All Occasions explores the fascinating, funny, and sometimes achingly sad ways a secret at the heart of one family both breaks them and binds them together. ~amazon.com
Review:
Saints for All Occasions
makes you realize that every family is dysfunctional to some degree and our parents always are a bit different than we think they are. Nora and Theresa are sisters but Nora acts more like a mother to her younger sister given the fact that their mother died when they were younger. So it's no surprise that when they arrive in Boston, Theresa rebels a bit which ends up having consequences for the entire family. Something of which neither of them fully understands until it is too late.
Theresa escapes into the convent before realizing it was where she was meant to be her entire life. That isn't to say that Theresa doesn't still have some rash behaviors in her but she's definitely mellowed. She comes into her own and is someone the younger nuns look up to for advice. She also has the benefit of having her best friend there along side her, which means it isn't so lonely for her.
Nora, on the other hand, runs a fairly large Catholic family but is truly lonely. She's not happy and doesn't know how to be. She's at her best when pulling together a family function that she can concentrate on. She's taken over the role of matriarch but is closed off to her emotions. I know the book summary said that Patrick was her favorite but I never really got that impression. I understood that she felt like she needed to protect him because of how his life started out but not the favorite. I'm not sure Nora knew how to have a favorite because that would require more energy than she was willing to give.
Ms. Sullivan does a great job of making the reader think about how decision can affect things decades later. Sometimes you can only make decisions with the information you had in front of you. How well do you know your family, especially your parents? You only see the people they have become after having kids, who were they before? Should we have some inkling of who they were before us?
Saints for All Occasions
is a novel that gets the complexities of families and how they shape who we become.

Google+