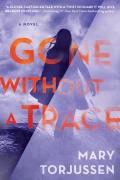 Author: Mary Torjussen
Series: None
Publication Date: April 17, 2017
Publisher: Berkley
Pages: 352
Obtained: publisher
Genre: Historical Fiction
Rating: 5/5
Bottom Line: Mind=BLOWN


G

rab,

J

ust get it at the library, or

R

emove from your TBR list? Grab!!!!!
Summary:
A jaw-dropping novel of psychological suspense that asks, If the love of your life disappeared without a trace, how far would you go to find out why? Hannah Monroe's boyfriend, Matt, is gone. His belongings have disappeared from their house. Every call she ever made to him, every text she ever sent, every photo of him and any sign of him on social media have vanished. It's as though their last four years together never happened. As Hannah struggles to get through the next few days, with humiliation and recriminations whirring through her head, she knows that she'll do whatever it takes to find him again and get answers. But as soon as her search starts, she realizes she is being led into a maze of madness and obsession. Step by suspenseful step, Hannah discovers her only way out is to come face to face with the shocking truth... ~amazon.com
Review:
Gone Without a Trace
has left my mind blown. I finished it a couple hours ago and it's still rattling around in my head. I just didn't really see that coming at all. Hannah is happy; she's got a great job, about to get promoted, a boyfriend (Matt) she loves and house she adores. Overall, she's got what she wants. That is until she comes back from out of town to find every trace of Matt and their life together wiped away from their house. She can't figure out what the heck has happened. What went wrong? Why is he gone? Why did he do this to her? How can someone just erase themselves from your life?
Hannah can't seem to move on from this though. She has to know why and is on war path to find Matt. She can't seem to focus on anything else. She slowly starts to come undone. She starts to map out on post it notes places that she has looked for Matt. Her kitchen slowly becomes a map of her mind and her slow descent in to crazy. Her friends try to encourage her to move on but Hannah has to know why he left her.
As excited as she was for her promotion, her all consuming quest to find Matt, has left not only her promotion in jeopardy but her job. She can't concentrate, she makes mistakes and shows up late consistently which doesn't go unnoticed by the partners.
While she descends into madness, you feel as if you are right there with her. The book gets creepy as you feel like she's being stalked but then you question if she's delusional and taking you along for the ride. At one point, I felt like I was going a little crazy myself.
Ms. Torjussen keeps you reading and turning those pages as fast as you can. It reeled me in from the very beginning and never let its hooks out of me. In Hannah she has a protagonist that you want to both smack and hug, sometimes simultaneously. Much like her best friend, Katie, you want her to let go of what obviously is over and yet you want to hug her because she's in such pain. She just wants answers and frankly we've all been there a time or two.
I can't recommend this book enough because I can guarantee your mind will be blow. I suggest that you go and get
Gone Without a Trace
.

Google+