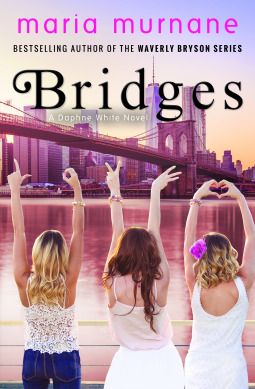 Author: Maria Murnane
Series: Daphne White #2
Publication Date: April 4, 2017
Publisher: Wink's Ink
Pages: 264
Obtained: Author
Genre: Contemporary Fiction
Rating: 4/5
Bottom Line: A delightful look at strong female friendships


G

rab,

J

ust get it at the library, or

R

emove from your TBR list? Grab!
Summary:
It's a piece of news Daphne never expected to hear: Her globe-trotting friend Skylar, who vowed never to get married, is engaged! Time to celebrate in Manhattan—Skylar's treat, of course. After years scaling the corporate ladder, she can more than afford it.Daphne arrives in NYC with news of her own—the novel she's finally finished appears to be going nowhere but the trash bin of every publishing house around. She's devastated but plans to keep her disappointment under wraps, something that becomes trickier when she sees Skylar's spectacular apartment. Could her life have been like this if she'd chosen a different path? What Daphne doesn't know is she's not the only one with a secret. Skylar and their friend KC are also holding something back, but what? As the trip unfolds, the truth about each woman emerges, along with tears. And laughter. And love. The fun-loving trio readers fell for in Wait for the Rain is together once more. Here's to the power of friendship! ~amazon.com
Review:
Let me just say that I'm happy that Maria hasn't given up on her writing career just yet because then I would have missed out on Bridges. I've been a big fan of Maria's books since she contacted me about
Perfect on Paper.
Bridges
is the story of 3 college friends who embark on a girls weekend to celebrate the engagement of Skylar. Daphne is coming in from Ohio and KC is on her way from California to have a fun filled weekend in the Big Apple.
Daphne is struggling to find a career for herself after staying at home to raise her daughter full time but now that Emma is going to be going off to college in a year, she wants something for herself. She has a manuscript that she's submitted to a few dozen literary agents and is waiting for word on representation as she travels to see her friends.
KC is the free spirit of the 3 of them and is coming in from California with her own news. She's the one who keeps them all centered because that's how she lives her life. She's happily married with 2 step-sons and even a granddaughter that keeps her on her toes.
Skylar is the career driven one who has had big success but who has always eschewed marriage. So perhaps she is the most surprised when she meets James and falls head over heels in love with him. Things aren't so perfect though, she's got a step-daughter who one could call an ice princess and she's in college. It's the one part of this relationship that has her unsure.
I love how each of them can voice their fears with each other, even at times, crossing the line with each other in that frustration. To me, the forgiveness is the key to these friendships and how they have lasted so long. They understand each other enough to let things go.
If you are looking for a wonderful book about friendship, then don't look any further than
Bridges
. Plus the cover of this book is gorgeous and it embodies the friendship of these 3 women. It is bright, hopeful and full of love.

Google+