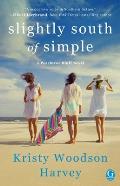 Author: Kristy Woodson Harvey
Series: Peachtree Bluff #1
Publication Date: April 25, 2017
Publisher: Gallery Books
Pages: 400
Obtained: Author
Genre: Contemporary Fiction,Women's Fiction
Rating: 4/5
Bottom Line: Sometimes it is important to go home and remember who you were and who you were meant to be


G

rab,

J

ust get it at the library, or

R

emove from your TBR list? Grab
Summary:
Caroline Murphy swore she'd never set foot back in the small Southern town of Peachtree Bluff; she was a New York girl born and bred and the worst day of her life was when, in the wake of her father's death, her mother selfishly forced her to move—during her senior year of high school, no less—back to that hick-infested rat trap where she'd spent her childhood summers. But now that her marriage to a New York high society heir has fallen apart in a very public, very embarrassing fashion, a pregnant Caroline decides to escape the gossipmongers with her nine-year-old daughter and head home to her mother, Ansley. Ansley has always put her three daughters first, especially when she found out that her late husband, despite what he had always promised, left her with next to nothing. Now the proud owner of a charming waterfront design business and finally standing on her own two feet, Ansley welcomes Caroline and her brood back with open arms. But when her second daughter Sloane, whose military husband is overseas, and youngest daughter and successful actress Emerson join the fray, Ansley begins to feel like the piece of herself she had finally found might be slipping from her grasp. Even more discomfiting, when someone from her past reappears in Ansley's life, the secret she's harbored from her daughters their entire lives might finally be forced into the open. Exploring the powerful bonds between sisters and mothers and daughters, this engaging novel is filled with Southern charm, emotional drama, and plenty of heart. ~amazon.com
Review:
For those of you looking for a book about family and relationships, then look no further than
Slightly South of Simple
. Caroline Murphy comes from a strong family of women but she might be the strongest of all of them based on her sheer will to keep it together during a very humiliating separating from her husband. You see, he decided to go on a reality tv show dating a model while he was still married to her. She can't stand the embarrassment so she packs up her daughter and goes back home. Except Caroline thinks Peachtree Bluff is the worst place on earth.
Ainsley finds comfort in Peachtree Bluff. It is the place where she came to when she lost her husband and had to finish raising her girls. It is the place where she has rebuilt her life. She has a successful decorating business and loves all the local characters. Ainsley has her own secrets that she has hidden from her girls. As her secrets are revealed, I didn't feel that she was holding back because of the secrets but because she doesn't want their memories of their father to be tainted. She's a wonderful matriarch to the family and knows how to deal with each of her girls in their own way.
While the novel is told from Ainsley and Caroline's points of views, we get to know the other 2 Murphy girls, Emerson and Sloane through their eyes. I'm hoping that in the next books we get to know Emerson and Sloane a bit more through their own stories.
While at times I found Caroline annoying and righteous at times, I did feel that her instructions to her sisters and mother came from a place of love. I did feel that her coming back helped ground her in the real world a bit more than her high society lifestyle in New York. Her sisters help bring her down to earth as well.
There are some strings that were left untied with
Slightly South of Simple
, so I am very much looking forward to the second book in the series.

Google+