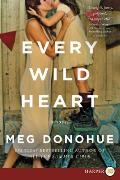 Author: Meg Donohue
Series: None
Publication Date: March 14, 2017
Publisher: William Morrow
Pages: 304
Obtained: TLC Book Tours
Genre: Contemporary Fiction
Rating: 3.75/5
Bottom Line: A mother and daughter story with some mystery thrown in


G

rab,

J

ust get it at the library, or

R

emove from your TBR list? Library
Summary:
Passionate and funny, radio personality Gail Gideon is a true original. Nine years ago when Gail's husband announced that he wanted a divorce, her ensuing on-air rant propelled her local radio show into the national spotlight. Now, "The Gail Gideon Show" is beloved by millions of single women who tune-in for her advice on the power of self-reinvention. But fame comes at a price. After all, what does a woman who has staked her career on being single do when she finds herself falling in love? And is the person who is harassing her in increasingly troubling ways a misguided fan or a true danger to Gail and her daughter, Nic? Fourteen-year-old Nic has always felt that she pales in comparison to her vibrant, outgoing mother. Plagued by a fear of social situations, she is most comfortable at the stable where she spends her afternoons. But when a riding accident lands Nic in the hospital, she awakens from her coma changed. Suddenly, she has no fear at all and her disconcerting behavior lands her in one risky situation after another. And no one, least of all her mother, can guess what she will do next… ~amazon.com
Review:
Every Wild Heart
is a wonderful story about a mother and daughter who get along and enjoy being with each other despite the daughter being a teen.
Gail (aka G.G.) is a famous talk show radio host who has always had life by the horns. She's a take no prisoners kind of gal. Her daughter, Nic, on the other hand, is definitely an introvert. If she could fade into the background she would, especially at school.
GG is struggling to decide what she wants to do next with her career. She's loved hosting talk radio but she misses her connection to listeners through music. She's also been approached to have her own tv show but she'd have to move to L.A. and given her daughter's personality, she's not so sure that's in her family's best interest. Plus her daughter still spends every other weekend with her father and his family. She's got a lot to think about career wise. She also has someone who is stalking her a little more than what she's normally used to from rabid fans.
Nic, on the other hand is more comfortable with her horse, Tru, then with kids her own age, which means she's a little awkward when she's put with a handsome senior during one of her classes. Then an accident happens causing Nic's personality to take a 180 degrees. She starts taking risks and doing things that are out of her normal personality. Things that concern her mother and others closest to her. Not only that but she seems more confident and self-aware.
The story itself moves along at a good pace and it's wonderful to see Nic come out of her shell and find her own voice. It seems like this is the person she was always supposed to be. GG also comes out of her shell and tries her hand at love again.
Each of the characters are relate-able and easy to see yourself in or someone close to you. Even the supporting characters make GG and Nic seem more human.
I really enjoyed a positive spin on the mother/daughter relationship for a change. There is hope!
If you'd like to read more opinions about Every Wild Heart:
Tuesday, March 14th: Tina Says…
Thursday, March 16th: Kritters Ramblings
Monday, March 20th: Art Books Coffee
Tuesday, March 21st: A Bookworm's World
Wednesday, March 22nd: A Bookish Way of Life
Thursday, March 23rd: StephTheBookworm
Friday, March 24th: BookNAround
Tuesday, March 28th: Comfy Reading
Thursday, March 30th: Kahakai Kitchen
Friday, March 31st: Mama Reads Hazel Sleeps
Monday, April 3rd: A Chick Who Reads
Tuesday, April 4th: Books and Bindings
Wednesday, April 5th: Back Porchervations
Wednesday, April 5th: Girls Just Reading
Thursday, April 6th: bookchickdi
Friday, April 7th: G. Jacks Writes
Monday, April 10th: Mama Vicky Says

Google+