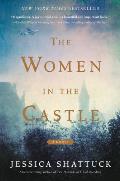 Author: Jessica Shattuck
Series: None
Publication Date: March 28, 2017
Publisher: William Morrow
Pages: 368
Obtained: TLC Book Tours
Genre: Historical Fiction
Rating: 3.75/5
Bottom Line: A perspective that isn't often told in WW II novels


G

rab,

J

ust get it at the library, or

R

emove from your TBR list? Library
Summary:
Set at the end of World War II, in a crumbling Bavarian castle that once played host to all of German high society, a powerful and propulsive story of three widows whose lives and fates become intertwined—an affecting, shocking, and ultimately redemptive novel from the author of the
New York Times
Notable Book
The Hazards of Good Breeding.
Amid the ashes of Nazi Germany's defeat, Marianne von Lingenfels returns to the once-grand castle of her husband's ancestors, an imposing stone fortress now fallen into ruin following years of war. The widow of a resister murdered in the failed July 20, 1944, plot to assassinate Adolf Hitler, Marianne plans to uphold the promise she made to her husband's brave conspirators: to find and protect their wives, her fellow resistance widows.
First Marianne rescues six-year-old Martin, the son of her dearest childhood friend, from a Nazi reeducation home. Together, they make their way across the smoldering wreckage of their homeland to Berlin, where Martin's mother, the beautiful and naive Benita, has fallen into the hands of occupying Red Army soldiers. Then she locates Ania, another resister's wife, and her two boys, now refugees languishing in one of the many camps that house the millions displaced by the war. As Marianne assembles this makeshift family from the ruins of her husband's resistance movement, she is certain their shared pain and circumstances will hold them together. But she quickly discovers that the black-and-white, highly principled world of her privileged past has become infinitely more complicated, filled with secrets and dark passions that threaten to tear them apart. Eventually, all three women must come to terms with the choices that have defined their lives before, during, and after the war—each with their own unique share of challenges. ~amazon.com
Review:
Women in the Castle
is the story of regret, guilt and most of all forgiveness. It's about learning from the past but also learning to move on from the past. The novel revolves around 3 women who have had very different experiences during the war. Marianne is the stoic one who believes that as a widow of a man in the resistance it is her duty and privileged to track down those women who also had husband's died for the cause. So she travels around trying to find them to bring them back to Burg Lingenfels to recover and figure out where to go next. Her first mission is to track down the wife of her dear childhood friend Connie and their son. Marianne also fashions herself a bit righteous because her husband was part of the resistance and because she never fell for Hitler's rhetoric. She's also clearly the mama bear of the group and no-nonsense.
Benita, sweet and naive, but so angry and lost. She was a young bride who married what she thought was a wealthy man only to have a war disrupt their marriage. He also never clued her in on the plans and so she felt like she was left in the wind. Her anger eats at her for years but the shining light in her life is her young son Martin.
Then you have Ania, she's the one who is the most reserved and the most quiet. She's the one who knows how to cook and she's practical. She keeps a watchful eye over her boys. She and Marianne have the closest bond of all the women. She also has the most interesting back story and perhaps the most surprising of the 3 women.
This is a perspective of World War II and the aftermath that isn't told much through historical fiction but it is important. For those of us who ask, how could the German people follow Hitler and his atrocities? I think it's important to recognize that in most cases they didn't have a choice or more importantly felt that there were no options. It's also important to realize that we are looking at their lives through 20/20 hindsight and while we can pass judgment we truly don't know what it was like to walk in their shoes.
At times, I felt that the story was slow and drawn out but I enjoyed how Ms. Shattuck wrapped up the story. These women aren't particularly likable but I kind of think that's the point in some way. People's experiences shape who they are and how they look at the world for good and bad.
Women in the Castle
showcases that it really does take a village to raise kids and sometimes just to survive. It teaches us the importance of learning from the past but living for the present.

Google+