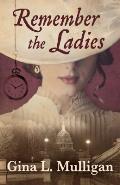 Author: Gina L. Mulligan
Series: None
Publication Date: May 18, 2016
Publisher: Five Star Publishing
Pages: 325
Obtained: Get Red PR
Genre: Historical Fiction
Rating: 4/5
Bottom Line: A strong and determined heroine that you will cheer for until the end of the novel


G

rab,

J

ust get it at the library, or

R

emove from your TBR list? Grab
Summary:
Growing up in an orphanage prepared Amelia Cooke for the high-stakes role of a female lobbyist in 1887, a time before women could vote. So when she's hired by the National Women's Suffrage Association to lobby for a suffrage amendment, Amelia feels empowered to give women a voice. What she doesn't foresee is Senator Edward Stillman. Stillman is charismatic, driven, and desperate to crush the amendment and Amelia. But in a political game where bribery, threats, extortion, and seduction prevail, who will win and at what cost? Set in the extravagant Gilded Age, Remember the Ladies explores the conflict between the sexes with delightful writing and elegant descriptions, which brings the reader back to a time when the struggle for women's equality had just begun. ~amazon.com
Review:
Remember the Ladies
is one of those novels that will cause you to take pause and realize that we really have come a long way in how women are viewed. A 100 years ago there were limited options for women and in 2016 we had our first female presidential candidate, that says a lot.
Amelia Cooke saw her parents die in a tragic carriage accident and then was raised in an orphanage where she never felt she truly belonged. So when she turned 18 she headed to D.C. where she thought she could make a difference. A chance meeting on a train with a powerful lobbyist that changes the course of her life. She has a lot to learn before she can even try to advocate for women using her voice. While she was attending a conference, she meets the charismatic Senator from Ohio, Edward Stillman. Their affair ends abruptly and they go their own way for a period of time. As a reader you know that Senator Stillman will be key in Amelia's vote for the suffrage amendment.
While the novel does move slow at times, it is probably pretty accurate to show how slow the inner workings of government move as well. I enjoyed the cat and mouse game between Edward and Amelia to gain the votes that they need to either get the amendment passed or squashed. Both of them are at the top of their game and aren't afraid to use knowledge of those voting to their advantage.
I admired Amelia's grit and determination to get this amendment passed. I also admired her because it wasn't win at all costs for her either. She discovers more about herself and what she's willing to sacrifice throughout this process and decides that something aren't worth compromising.
I truly enjoyed reading about the struggle to get women the right to vote that wouldn't come to an end until 1920 when the amendment finally has the support it needed. If you are looking for a great historical fiction read, then you should pick up
Remember the Ladies
.

Google+