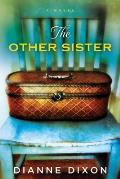 Author: Dianne Dixon
Series: None
Publication Date: November 1, 2016
Publisher: Sourcebooks Landmark
Pages: 400
Obtained: publisher via NetGalley
Genre: Psychological Thriller
Rating: 4.25/5
Bottom Line: Kept me guessing until the end


G

rab,

J

ust get it at the library, or

R

emove from your TBR list? Library
Summary:
One sister has everything. Her twin hates her for it. Would life be better without Ali? Probably. At least then people might think about Morgan. Ali's always gotten everything ― she doesn't even realize how much Morgan resents her. Ali also doesn't realize that when she shuts Morgan out entirely, she will unleash a chain of events that show just how dangerous the underside of love really is. As their lives spin toward something neither one of them can control, a terrifying crime reveals how those who know us best can destroy us...or save us. ~amazon.com
Review:
The Other Sister
will have you guessing until the very end what is really going on. I swear I changed my mind on the direction of the story a couple different times. Morgan and Ali are twins and while they share a tight bond, often enough it is one that is more of intense dislike than of love. Morgan views her life as subpar compared to Ali's. Ali has everything including the love a Matt, who Morgan met first. Morgan has always felt that Ali is the golden child and that everything in her life has always been fantastic. In one word, Morgan is envious of Ali.
Ali on the other hand seems to have it all but she's not cocky about it. She loves her life and has dreams of her own. She wants to open her own restaurant but she's willing to work hard for it. She's also very much in love with Matt, so when he throws her a curve ball and announces he's taken a job in Hollywood, she marries him and goes with him. At this point, I had to question Ali and if she really had everything like Morgan thought. There were enough red flags with Matt, that I actually thought she might bail on him and stay in Rhode Island and follow her dreams.
What Ms. Dixon does very well is create the tug and pull of sibling, especially twin, rivalry. Twins really do take it to a whole other level. She also writes so that you vacillate between which sister you side with. For a long time, Morgan drove me crazy but the break from Ali is what she needed to figure out that she put herself in Ali's shadow. She needed to understand her own worth and quit keeping herself in her sister's shadow. For Ali, she had to shake the feeling of carrying someone around and always being responsible for Morgan. She also has to deal with a tragedy that puts a greater divide between her and Matt, since their marriage is already shaky.
I definitely didn't see the twists and turn coming until the very end. I really did think the novel was taking a different direction. I have to say that I would highly recommend
The Other Sister
for fans of psychological thrillers.

Google+