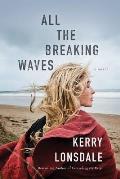 Author: Kerry Lonsdale
Series: None
Publication Date: December 6, 2016
Publisher: Lake Union
Pages: 320
Obtained: publisher via NetGalley
Genre: Contemporary Fiction
Rating: 3.75/5
Bottom Line: A story about finding yourself in the mistakes of the past and the hope in your future


G

rab,

J

ust get it at the library, or

R

emove from your TBR list? Library
Summary:
After a harrowing accident tore her family apart, Molly Brennan fled from the man she loved and the tragic mistake she made. Twelve years later, Molly has created a new life for herself and her eight-year-old daughter, Cassie. The art history professor crafts jewelry as unique and weathered as the surf-tumbled sea glass she collects, while raising her daughter in a safe and loving environment—something Molly never had. But when Cassie is plagued by horrific visions and debilitating nightmares, Molly is forced to return to the one place she swore she'd never move back to—home to Pacific Grove. A riveting exploration of love, secrets, and motherhood, All the Breaking Waves is the poignant story of a woman who discovers she must confront her past, let go of her guilt, and summon everything in her power to save her daughter. ~amazon.com
Review:
All the Breaking Waves
is interesting look at what it means to wrestle with your past and to realize that the secret you've been keeping has brought you more pain that joy. That you have suffered without needing to have carried it all on your own.. It is about finding hope in the future and learning to let go.
Molly is a single mom to young Cassidy who is starting to have visions about accidents that keep her up at night and make her an outcast at school. So much so that because of some of Cassidy's actions, she gets suspended from school. This causes Molly to pack up and run home to the house she grew up in, to her Nana. As she does this though, her past comes back to her in very real ways, because her childhood paramour is back and living next to her Nana. She left Owen abruptly and isn't ready to confront that with him. Right now, she's trying to stay alive based on a premonition that Cassidy that had of her.
Molly is struggling to do things right but in doing this, she misses a lot that is right in front of her. She doesn't realize that she's dangerously close to repeating her own family history. She is so wrapped up in her own head and singular vision that she's missing other clues that are going on around her.
There is a bit that is predictable in the novel but there are a couple twists and turns but I enjoyed the uncovering the history between Nana and Molly and how both of them carried their guilt differently.
Ms. Lonsdale wrote an interesting book that used a bit of mystical ability with a lot of heart and resilience. It's about how to believe in yourself and find your way back to the person you were.

Google+