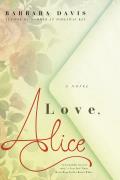 Author: Barbara Davis
Series: None
Publication Date: December 6, 2016
Publisher: Berkley
Pages: 432
Obtained: publisher
Genre: Contemporary Fiction, Historical Fiction
Rating: 4/5
Bottom Line: A sad and yet hopeful story about the cruelty displayed to single mom's in laundries throughout Europe


G

rab,

J

ust get it at the library, or

R

emove from your TBR list? Library
Summary:
A year ago, Dovie Larkin's life was shattered when her fiancé committed suicide just weeks before their wedding. Now, plagued by guilt, she has become a fixture at the cemetery where William is buried, visiting his grave daily, waiting for answers she knows will never come. Then one day, she sees an old woman whose grief mirrors her own. Fascinated, she watches the woman leave a letter on a nearby grave. Dovie ignores her conscience and reads the letter—a mother's plea for forgiveness to her dead daughter—and immediately needs to know the rest of the story. As she delves deeper, a collection of letters from the cemetery's lost and found begins to unravel a decades-old mystery involving one of Charleston's wealthiest families. But even as Dovie seeks to answer questions about another woman's past—questions filled with deception, betrayal, and heartbreaking loss—she starts to discover the keys to love, forgiveness, and finally embracing the future. ~amazon.com
Review:
Love, Alice
is the story about finding the will to survive and carry on even when you have given up hope. This is the case of Alice, who is put in a convent when her mother discovers that she is pregnant without being married. Alice, who never gives up hope, moves to the states to try to find her son or daughter that was given up for adoption in the late 1960s. Modern day brings us Dovie Larkin visiting the grave of her deceased fiance who committed suicide just weeks before their wedding. She wonders what could have possibly gone wrong and spends her lunch hours eating next his grave. To put it lightly, Dovie is living among the dead instead of moving on with her life. It's like she's scared to move on and begin again. She knows she needs to but she's also tired of hearing it from others.
One day while at William's grave, she spots an older woman at the grave of Alice. When the woman leaves, Dovie notices that she leaves a letter behind, so curiosity gets the best of her and she reads the letter. Now Dovie wants to know the full story so she befriends the woman. It's then that Alice's story starts to consume Dovie. She's preoccupied with what happened to Alice and wants to help figure out her story. I enjoyed Love, Alice very much and found most of it sad but with glimmers of hope. Alice was a gutsy young woman to pick up and leave everything she knew for pretty much a wild goose chase. She came to America with one thing in mind, finding her child. What she found was a family that took her in, befriended her and loved her. She ended up being where she was needed and when it was important for her to feel that.
I will say there were a couple of things that I found a bit predictable but I found the history behind Alice's story a bit fascinating so I was willing to forgive. I also gave Dovie a bit of a longer rope since her grief was so apparent. I did want her to move on and I didn't mind one bit that it looked like it was going to be the delicious Austin Tate. Austin had his own demons to wrestle with and confront but they were something that he could overcome.
Ms. Davis does a great job of melding the past and the present together. I thought the letters were a great way to tell Alice's story and to get an idea of the pain she was going through. If you are looking for a solid novel to read on a winter's weekend, then you should pick up
Love, Alice
.

Google+