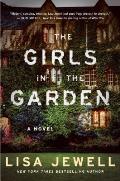 Author: Lisa Jewell
Series: None
Publication Date: June 7, 2016
Publisher: Atria
Pages: 320
Obtained: publisher
Genre: Contemporary Fiction, Mystery
Rating: 4/5
Bottom Line: Starts a little slow but give it time and you need to find out what happens in the garden


G

rab,

J

ust get it at the library, or

R

emove from your TBR list? ?Grab
Summary:
Imagine that you live on a picturesque communal garden square, an oasis in urban London where your children run free, in and out of other people's houses. You've known your neighbors for years and you trust them. Implicitly. You think your children are safe. But are they really? On a midsummer night, as a festive neighborhood party is taking place, preteen Pip discovers her thirteen-year-old sister Grace lying unconscious and bloody in a hidden corner of a lush rose garden. What really happened to her? And who is responsible? ~amazon.com
Review:
Girls in the Garden
is a story about the secrets we adults keep about our own teenage lives and the secrets that our teenagers keep from us. I actually shudder at that second part since my 11 year old will be there quicker than I care to admit. Virginia Park is one of those private gardens tucked away in London that only the people that live surrounding it can access. It seems idyllic, right? Well not with all the nooks and crannies within the garden/park itself. It's ripe with areas for hidden things to take hold.
We are introduced to Clare, Grace and Pip as being new to the park area after a tragedy has befallen them. They quickly befriend Adele, Leo and their 3 girls; Catkin, Fern and Willow who are home-schooled and yes a bit weird but mainly it seems because they haven't been exposed to anything outside of their commune. To round out the kids, we meet Tyler and Dylan who have been best friends for years. Grace and Pip struggle to fit in for a bit until they find their bearings with all the kids.
There's a history to the garden that Ms. Jewell starts to slowly weave you in on. It seems there was a death years ago when Leo and his brothers grew up hanging in the garden. It seems there are some rumors about what really happened and if any one was involved. Is the garden really as innocent as it seems or is there a darkness there? Is there a little bit of darkness in all of us, even when we are young and on the cusp of being a teen?
Ms. Jewell does a great job of laying down the crumbs of the mystery of what happened to Grace and what happened to Phoebe? Is it history repeating itself or is it coincidence? How would you feel if everyone that lived in your neighborhood knew all your business? It seems like you need to be one of those people that doesn't mind having everything out there because living like this is like living in a fishbowl. It definitely isn't for everyone.
There were times when I thought that both Adele and Clare needed a bit of a backbone and to rely on themselves instead of their husbands but in the end I came to appreciate why they were both like that, even if I didn't fully agree with it. As far as the teen girls, you realize just how spiteful they can be and want to shelter your kids from them but yet they need to learn how to deal with people like that because not everyone is kind. It's just unfortunate that kids experience that early in life. It also makes you aware at how quickly kids grow up and how badly they want to be adults without truly knowing the consequences instead of just enjoying childhood. That seems to be more prevalent today than ever before with social media.
If you are looking for a good mystery with a little bit of class-ism, then you should pick up
Girls in the Garden
.

Google+