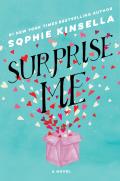 Author: Sophie Kinsella
Series: None
Publication Date: February 13, 2018
Publisher: The Dial Press
Pages: 432
Obtained: publisher via Netgalley
Genre: Contemporary Fiction, Women's Fiction
Rating: 3.5/5
Bottom Line: Not one of her best but still entertaining


G

rab,

J

ust get it at the library, or

R

emove from your TBR list? Library
Summary:
After ten years together, Sylvie and Dan have a comfortable home, fulfilling jobs, and beautiful twin girls, and they communicate so seamlessly they finish each other's sentences. They have a happy marriage and believe they know everything there is to know about each other. Until it's casually mentioned to them that they could be together for another sixty-eight years . . . and panic sets in. They decide to bring surprises into their marriage to keep it fresh and fun. But in their pursuit of Project Surprise Me—from unexpected gifts to restaurant dates to sexy photo shoots—mishaps arise, with disastrous and comical results. Gradually, surprises turn to shocking truths. And when a scandal from the past is uncovered, they begin to wonder if they ever really knew each other at all. ~amazon.com
Review:
Sylvie and Dan are worried about their marriage becoming boring, after all they've been together for 10 years and based on their health will be together for almost seven more decades; so how will they keep that spark? Of course when you tell someone to surprise you, you don't always get what you bargain for. Plus I would think that it would be impossible to keep that up on a regular basis.
Sylvie has lived in a bubble her whole life. In many ways, she still lives in a bubble. She really doesn't know what real problems are and honestly this is what leads her to perhaps blow things out of proportion. She's got a husband that adores her and 2 lovely young girls. She's got a job that she enjoys even if it's not challenging. All in all her life is pretty good.
So when Dan starts acting closed off and secretive, Sylvie's alarm bells go off and she's off thinking the worst...an affair. As the reader this seems a little too obvious and I was hoping that we weren't going to be falling into that cliche here. I am pleased that it wasn't that cliche.
Honestly, I read Sophie Kinsella to laugh out loud but at least chuckle and with this one there wasn't a lot of that going on. It's not to say I didn't enjoy it, I did but it's just different than her other books. I did enjoy that instead of a singleton, her main character is married and a working mom. There were a couple moments where I could feel the story shift into a different direction, which I was happy for. Overall,
Surprise Me
isn't her best book in my opinion but I'll still keep reading her. Her characters are at least silly and fun.

Google+