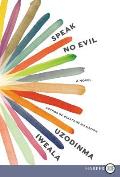 Author: Uzodinma Iweala
Series: None
Publication Date: March 6, 2018
Publisher: Harper
Pages: 224
Obtained: publisher
Genre: Contemporary Fiction
Rating: 5/5
Bottom Line: Emotionally intense


G

rab,

J

ust get it at the library, or

R

emove from your TBR list? Grab
Summary:
On the surface, Niru leads a charmed life. Raised by two attentive parents in Washington, D.C., he's a top student and a track star at his prestigious private high school. Bound for Harvard in the fall, his prospects are bright. But Niru has a painful secret: he is queer—an abominable sin to his conservative Nigerian parents. No one knows except Meredith, his best friend, the daughter of prominent Washington insiders—and the one person who seems not to judge him. When his father accidentally discovers Niru is gay, the fallout is brutal and swift. Coping with troubles of her own, however, Meredith finds that she has little left emotionally to offer him. As the two friends struggle to reconcile their desires against the expectations and institutions that seek to define them, they find themselves speeding toward a future more violent and senseless than they can imagine. Neither will escape unscathed. ~amazon.com
Review:
Speak No Evil
is a book told from two view points but not in tandem. Niru is a young man fighting his sexuality but when he finally admits it to his best friend, Meredith, she pushes him to just embrace it. She even takes liberties with his phone and adds dating apps. Which, of course she can't possibly know will change the trajectory of his life and hers. Niru comes from a strict Nigerian household, because of their culture and religion being gay is not acceptable. It is something that they believe needs to be exorcised from Niru's personality. This being the case, Niru's father takes him home to Nigeria to get the spiritual attention he needs. Except Niru isn't sure it's he who has to change but he's not sure how to do get his parents to accept who he is when he's still struggling to accept it himself.
Niru and Meredith's stories converge as Niru runs to her when he's at his most desperate. This is when Meredith's story takes over. It is her story that will rip your heart out. You will read parts of her story a couple times to realize what just happened.
Both Niru and Meredith are empathetic characters but in very different ways. Your heart goes out to Niru for the way he is shunned by both of his parents but in very different ways. His father only accepts him being gay when it helps his narrative. His mother, trying to keep the peace shuts Niru out in her own way by not defending him to his father. Meredith will carry guilt with her for the rest of her life.
While Niru's sexuality is the catalyst for the novel, it is truly about how to accept yourself when those closest to you can't handle your truth. How do you make others accept you when you are just beginning to accept yourself? It is about understanding how different cultures view various subject matters even if we don't agree with their views. Mr. Iweala doesn't give us the answers to these issues but lets us in to understand how different we all are and how we all struggle.
Mr. Iweala packs a powerful punch in less than 250 pages. His writing is succinct but never lacking in description and depth. He writes characters that you have empathy for and realize that these kids could be someone you know.
Speak No Evil
should be read by everyone.

Google+