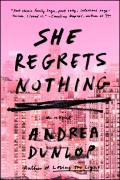 Author: Andrea Dunlop
Series: None
Publication Date: February 6, 2018
Publisher: Washington Square Press
Pages: 400
Obtained: publisher via Netgalley
Genre: Contemporary Fiction
Rating: 4/5
Bottom Line: More Money More Problems


G

rab,

J

ust get it at the library, or

R

emove from your TBR list? Grab
Summary:
When Laila Lawrence becomes an orphan at twenty-three, the sudden loss unexpectedly introduces her to three glamorous cousins from New York who show up unannounced at her mother's funeral. The three siblings are scions of the wealthy family from which Laila's father had been estranged long before his own untimely demise ten years before. Two years later, Laila has left behind her quiet life in Grosse Point, Michigan to move to New York City, landing her smack in the middle of her cousins' decadent world. As the truth about why Laila's parents became estranged from the family patriarch becomes clear, Laila grows ever more resolved to claim what's rightfully hers. Caught between longing for the love of her family and her relentless pursuit of the lifestyle she feels she was unfairly denied, Laila finds herself reawakening a long dead family scandal—not to mention setting off several new ones—as she becomes further enmeshed in the lives and love affairs of her cousins. But will Laila ever, truly, belong in their world? Sly and sexy, She Regrets Nothing is a sharply observed and utterly seductive tale about family, fortune, and fate—and the dark side of wealth. ~amazon.com
Review:
She Regrets Nothing
is the kind of book that you want to read after you've read a lot of heavily themed novels. It definitely has a soap opera-y feel to it with all the drama and deceit. You know from the minute Laila moves to NYC she's going to get herself into heaps of trouble. She's a fish out of water who wants to grow legs and belong. She's definitely not as naive as you think in the beginning and as the book goes on you realize that she seized the opportunity with gusto. Unfortunately, her new cousins see her as a naive Midwesterner and for a while she feeds into that stereotype. Laila acts like she's there for the relationships with Liberty, Leo and Nora but really she's all about the benjamins.
Liberty is the most grounded of the 3 cousins. She's got a job that she loves and doesn't take her family's money for granted. She's got a best friend who really is like her sister, Reece and is pretty satisfied with her life overall. Nora and Leo are the self-absorbed twins. They are all about how super rich they can still be without having to work for any of it. They are all about parties (charity or otherwise), clubs and shopping. Nora is attention seeker and Leo can't decide what he wants.
Here's the thing about the super wealthy (I've learned it all from books and tv) is they are suspicious of newbies. It won't matter that Laila is a "Lawrence" it will matter that she didn't grow up with the rest of them. Money, or lack there of it, does funny things to people. It can bring out the worst in people or it can bring out the best. Laila was an example of the worst, while her cousin Liberty was the best. Ms. Dunlop does an excellent job of ensuring these characters aren't too cartoonish while also showing that in some ways they are exactly that.
The novel starts off a bit slow but it builds and builds and builds until everything happens at once. Laila's carefully constructs mirage evaporates. She can never imagine the harm that her lies and deceit will do but she doesn't really care.
I definitely enjoyed
She Regrets Nothing
and would recommend it. It would be a great read for Spring Break (or any other time).

Google+