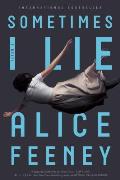 Author: Alice Feeney
Series: None
Publication Date: March 13, 2018
Publisher: Flatiron Books
Pages: 272
Obtained: publisher
Genre: Psychological Thriller
Rating: 3/5
Bottom Line: Not jumping aboard this buzz train


G

rab,

J

ust get it at the library, or

R

emove from your TBR list? Library
Summary:
My name is Amber Reynolds. There are three things you should know about me: 1. I'm in a coma. 2. My husband doesn't love me anymore. 3. Sometimes I lie. Amber wakes up in a hospital. She can't move. She can't speak. She can't open her eyes. She can hear everyone around her, but they have no idea. Amber doesn't remember what happened, but she has a suspicion her husband had something to do with it. Alternating between her paralyzed present, the week before her accident, and a series of childhood diaries from twenty years ago, this brilliant psychological thriller asks: Is something really a lie if you believe it's the truth? ~amazon.com
Review:
Sometimes I Lie
is one of those books that has been getting a lot of buzz about the twists and turns. I know a few people who devoured this book. This book should have been a quicker read than it was for me. I love psychological thrillers and I even enjoy the unreliable narrator.
For me I found it very scattered and at times hard to follow. I felt like it was twisted to the point of distortion. I did like the coma aspect of the narrative and how she was aware of what was going on around her but was unable to communicate with those around her. Amber and Claire's relationship was very strange and doesn't make sense until it does. I did figure out who Amber's tormentor was pretty easily and was just waiting for the those in the book to catch on.
The ending did take everything you had learned and thought throughout the first 75% of the book and turns it on a dime. Still in the end though I wasn't sure who to believe and who was whom.
If this sounds right up your alley, then go and grab it. Unfortunately, it didn't strike a cord with me.

Google+