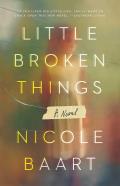 Author: Nicole Baart
Series: None
Publication Date: November 21, 2017
Publisher: Atria
Pages: 368
Obtained: Great Thoughts, Great Readers Book Salon
Genre: Suspense, Contemporary Fiction
Rating: 5/5
Bottom Line: This will satisfy the readers of both suspense and contemporary fiction


G

rab,

J

ust get it at the library, or

R

emove from your TBR list? Grab
Summary:
An engrossing and suspenseful novel for fans of Liane Moriarty and Amy Hatvany about an affluent suburban family whose carefully constructed facade starts to come apart with the unexpected arrival of an endangered young girl. I have something for you. When Quinn Cruz receives that cryptic text message from her older sister Nora, she doesn't think much of it. They haven't seen each other in nearly a year and thanks to Nora's fierce aloofness, their relationship consists mostly of infrequent phone calls and an occasional email or text. But when a haunted Nora shows up at the lake near Quinn's house just hours later, a chain reaction is set into motion that will change both of their lives forever. Nora's "something" is more shocking than Quinn could have ever imagined: a little girl, cowering, wide-eyed, and tight-lipped. Nora hands her over to Quinn with instructions to keep her safe, and not to utter a word about the child to anyone, especially not their buttoned-up mother who seems determined to pretend everything is perfect. But before Quinn can ask even one of the million questions swirling around her head, Nora disappears, and Quinn finds herself the unlikely caretaker of a girl introduced simply as Lucy. While Quinn struggles to honor her sister's desperate request and care for the lost, scared Lucy, she fears that Nora may have gotten involved in something way over her head—something that will threaten them all. But Quinn's worries are nothing compared to the firestorm that Nora is facing. It's a matter of life and death, of family and freedom, and ultimately, about the lengths a woman will go to protect the ones she loves. ~amazon.com
Review:
Little Broken Things
is a book that you will think you have it all figured out but you really don't until it all comes together at the end. You go along with the assumptions of both Liz, the matriarch, and Quinn, the baby of the family because it's all that you know.
Why would Nora drop off a stranger if she wasn't a niece or granddaughter. Why is Nora being all secretive? Why is Lucy so quiet and scared? The story alternates between the 3 Sanford women and we get to see the events unfold from Nora ,who knows why Lucy was dropped with Quinn, Liz who's external wall is starting to crumble as she faces some truths in her life and Quinn, who fell in love and got married quickly only to be hit with real life issues.
How will these women with the same blood mend the fences that seem to be up around them? Will they be able to confront the past in order to protect themselves and Lucy?
All of these women, including Lucy, are strong and brave. Nora, perhaps is the bravest because she puts the lives of others in front of hers. Her bond and friendship with Tiffany has put her in danger with a man that is known to abuse.
Liz is starting to deal with some truths about her husband, their marriage and her own actions over the years.
What I really enjoyed about the novel is that it is multi-layered storytelling. There is a lot of suspense going on throughout the novel but it also the story of a family finding their way back to each other.
Little Broken Things
is a book that you won't want to miss.

Google+