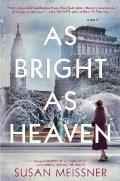 Author: Susan Meissner
Series: None
Publication Date: February 6, 2018
Publisher: Berkley
Pages: 400
Obtained: Great Thoughts for Great Readers Book Salon
Genre: Historical Fiction
Rating: 4.5/5
Bottom Line: An eye opening novel about the tragedy of the Spanish Flu


G

rab,

J

ust get it at the library, or

R

emove from your TBR list? Grab
Summary:
In 1918, Philadelphia was a city teeming with promise. Even as its young men went off to fight in the Great War, there were opportunities for a fresh start on its cobblestone streets. Into this bustling town, came Pauline Bright and her husband, filled with hope that they could now give their three daughters--Evelyn, Maggie, and Willa--a chance at a better life. But just months after they arrive, the Spanish Flu reaches the shores of America. As the pandemic claims more than twelve thousand victims in their adopted city, they find their lives left with a world that looks nothing like the one they knew. But even as they lose loved ones, they take in a baby orphaned by the disease who becomes their single source of hope. Amidst the tragedy and challenges, they learn what they cannot live without--and what they are willing to do about it. As Bright as Heaven is the compelling story of a mother and her daughters who find themselves in a harsh world not of their making, which will either crush their resolve to survive or purify it. ~amazon.com
Review:
If you read my reviews at all you know that I am always astounded by the research that goes into a historical fiction novel; it is no different with Ms. Meissner's
As Bright as Heaven
.
The Bright family move from Quakertown, PA to Philadelphia for a better life just months before the outbreak and to heal from the death of their baby brother/son. We are told of family events and the Spanish Flu epidemic of 1918 through the eyes of the females in the family; Pauline, Evie, Maggie and Willa.
Each woman has her own voice and her own issues to deal with. Pauline and Maggie want to be involved in the family business which their Uncle acquiesces too. Each of them struggle with their own heartache and tragedies. Their mother Pauline is devoted to her girls and wants them to have the world. Evie and Maggie, as the two oldest, noticed a change in their mother since they've been in Philadelphia but they can't figure out what it is. It's not that she's happy but it's that she's not as sad.
I loved that we got to see the young sister's grow up over several years and have a peek into who they will be throughout their lives. I also loved how they had each of the girls pursued their passions given the time period.
As Bright as Heaven
is a story of insurmountable loss, love, hope and finding what makes you happy even as you are coming out of darkness. We see each of them struggle with their own heartbreak and loss and see who they grow up to be.

Google+