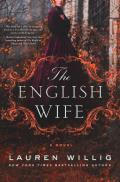 Author: Lauren Willig
Series: None
Publication Date: January 9, 2018
Publisher: St. Martin's Press
Pages: 384
Obtained: publisher via Netgalley
Genre: Historical Fiction, Mystery
Rating: 3.5/5
Bottom Line: Seemed a bit scattered to me


G

rab,

J

ust get it at the library, or

R

emove from your TBR list? Library
Summary:
Annabelle and Bayard Van Duyvil live a charmed life in New York: he's the scion of an old Knickerbocker family, she grew up in a Tudor manor in England, they had a whirlwind romance in London, they have three year old twins on whom they dote, and he's recreated her family home on the banks of the Hudson and renamed it Illyria. Yes, there are rumors that she's having an affair with the architect, but rumors are rumors and people will gossip. But then Bayard is found dead with a knife in his chest on the night of their Twelfth Night Ball, Annabelle goes missing, presumed drowned, and the papers go mad. Bay's sister, Janie, forms an unlikely alliance with a reporter to uncover the truth, convinced that Bay would never have killed his wife, that it must be a third party, but the more she learns about her brother and his wife, the more everything she thought she knew about them starts to unravel. Who were her brother and his wife, really? And why did her brother die with the name George on his lips? ~amazon.com
Review:
English Wife
starts off with a ball to open up the house that Annabelle (aka Georgie) and Bay Van Duyvilll have built on the outskirts of New York City to show to society. It is quickly diverted by the murders of the host and hostess who are found in the garden by Bay's sister, Janie and cousin, Anne. Everyone is quick to judge that either Annabelle is a murderess or that Bay is a murderer but Janie is convinced that it was a 3rd party. She decides to team up with a reporter, Mr. Burke, to figure out what the truth is, no matter what the outcome.
The story is told by going back into time when Bay first met Annabelle and then the aftermath of the murders. While I found the background of Bay and Annabelle's somewhat interesting, it was the piecing of all the players that could be involved in the murders that was perhaps the most intriguing. With Annabelle's background it opened the net a bit for suspects.
Ms. Willig definitely knows how to tell a story and this one is no different. There are a few different subplots but they eventually weave there way into the full story.
P.S. I love the colors in this cover it really captures the tone of the novel.

Google+