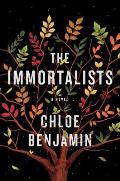 Author: Chloe Benjamin
Series: None
Publication Date: January 9, 2018
Publisher: Putnam
Pages: 352
Obtained: publisher via Netgalley
Genre: Contemporary Fiction
Rating: 5/5
Bottom Line: What a great novel to start out a new year!


G

rab,

J

ust get it at the library, or

R

emove from your TBR list? Grab
Summary:
If you knew the date of your death, how would you live your life? It's 1969 in New York City's Lower East Side, and word has spread of the arrival of a mystical woman, a traveling psychic who claims to be able to tell anyone the day they will die. The Gold children—four adolescents on the cusp of self-awareness—sneak out to hear their fortunes. The prophecies inform their next five decades. Golden-boy Simon escapes to the West Coast, searching for love in '80s San Francisco; dreamy Klara becomes a Las Vegas magician, obsessed with blurring reality and fantasy; eldest son Daniel seeks security as an army doctor post-9/11; and bookish Varya throws herself into longevity research, where she tests the boundary between science and immortality. A sweeping novel of remarkable ambition and depth, The Immortalists probes the line between destiny and choice, reality and illusion, this world and the next. It is a deeply moving testament to the power of story, the nature of belief, and the unrelenting pull of familial bonds. ~amazon.com
Review
:
Immortalists
is a novel that will make you think about your own mortality and of those you are closest too. If you knew the date of your death would you run your way to it or would you live your life in a way to avoid it? What about the morality of telling kids when they would die?
Each of the Gold children deal with their date in different ways. Simon embraces who he is, lives and loves with reckless abandon. Klara is perhaps the most susceptible to the information give by the gypsy and she's the one that I feel took her date into her own hands. Daniel led a life he was proud of until he got information that made him spin out of control. Varya, the oldest and seemingly the most stable is anything but what she seems.
I loved how Ms. Benjamin chose to tell the story. When one story ends, another sibling picks up their story from there so you get to see how their stories are interwoven and how society changes over the decades. Each sibling has their own voice but they all have the one thing that binds them together besides their family ties and that's their experience with the fortune teller. She also handles mental illness extremely well in a few of the cases with the siblings.
Family ties us together good or bad and it is the thing that we hold onto the most. I can see why this novel got all the hype that it has before publication. The storytelling is wonderful as are each of the characters.
There is so much to discuss with this
Immortalists
and it would make a tremendous book club choice. I don't think you'll want to miss this one in 2018.

Google+