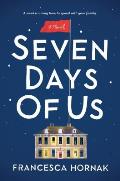 Author: Francesca Hornak
Series: None
Publication Date: October 17, 2017
Publisher: Berkley
Pages: 368
Obtained: publisher via Netgalley
Genre: Contemporary Fiction
Rating: 3.75/5
Bottom Line: A family drama that lacks real drama


G

rab,

J

ust get it at the library, or

R

emove from your TBR list? Library
Summary:
It's Christmas, and for the first time in years the entire Birch family will be under one roof. Even Emma and Andrew's elder daughter—who is usually off saving the world—will be joining them at Weyfield Hall, their aging country estate. But Olivia, a doctor, is only coming home because she has to. Having just returned from treating an epidemic abroad, she's been told she must stay in quarantine for a week…and so too should her family. For the next seven days, the Birches are locked down, cut off from the rest of humanity—and even decent Wi-Fi—and forced into each other's orbits. Younger, unabashedly frivolous daughter Phoebe is fixated on her upcoming wedding, while Olivia deals with the culture shock of being immersed in first-world problems. As Andrew sequesters himself in his study writing scathing restaurant reviews and remembering his glory days as a war correspondent, Emma hides a secret that will turn the whole family upside down. In close proximity, not much can stay hidden for long, and as revelations and long-held tensions come to light, nothing is more shocking than the unexpected guest who's about to arrive. ~amazon.com
Review:
Seven Days of Us
is a novel that most will find comfort in reading because it hits all the right buttons especially coming up on the holidays. I found that I expected much more than what I got but I still enjoyed it. I was looking for something a little more than typical family strife. The Birch family is an interesting clan and they all have their little quirks.
Emma, the matriarch, is hiding something from her family that will impact them all and it only adds to her typical frenetic personality. Andrew, the patriarch, has been living with secret for years and now he's going to have to own up to it in a big way. Olivia, the eldest, is the person to cause this quarantine because of her work in Liberia treating people with a deadly disease. Then there's Phoebe, she's the youngest and none to pleased about this quarantine. She just got engaged and she has a wedding to plan.
Each of them are self-absorbed in their own way and can't really see other's points of view. At times it's infuriating how disconnected all of them are to each other but then I'm sure that's how some families are with grown children.
For a family drama novel, I didn't feel that there was real drama. There were opportunities for there to be more of it but I felt it was all brushed under the rug or resolved too quickly. There weren't any real twists or turns and while yes it's not a suspense or thriller, sometimes you want something out of left field to happen in a family drama that isn't so cookie cutter.
I had high expectations for this one going in and while overall I did enjoy it, I felt there could have been a bit more depth to it. If you are in the mood for novels about family this season, then
Seven Days of Us
will fill that need.

Google+