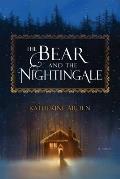 Author: Katherine Arden
Series: Winternight Trilogy
Publication Date: January 10, 2017
Publisher: Del Rey
Pages: 336
Obtained: friend
Genre: Fairy Tale, Fantasy
Rating: 3.75/5
Bottom Line: A gorgeously written novel that evokes a world of Russian Fairy Tales


G

rab,

J

ust get it at the library, or

R

emove from your TBR list? Library
Summary:
Winter lasts most of the year at the edge of the Russian wilderness, and in the long nights, Vasilisa and her siblings love to gather by the fire to listen to their nurse's fairy tales. Above all, Vasya loves the story of Frost, the blue-eyed winter demon. Wise Russians fear him, for he claims unwary souls, and they honor the spirits that protect their homes from evil. Then Vasya's widowed father brings home a new wife from Moscow. Fiercely devout, Vasya's stepmother forbids her family from honoring their household spirits, but Vasya fears what this may bring. And indeed, misfortune begins to stalk the village. But Vasya's stepmother only grows harsher, determined to remake the village to her liking and to groom her rebellious stepdaughter for marriage or a convent. As the village's defenses weaken and evil from the forest creeps nearer, Vasilisa must call upon dangerous gifts she has long concealed—to protect her family from a threat sprung to life from her nurse's most frightening tales. ~amazon.com
Review:
The Bear and the Nightingale
isn't really my usual book because it really does fall into the fantasy category even though in essence it's a Russian Fairy Tale. Having said that I'm glad my friend recommended it and sent it to me.
It is the story of family, love, history and of finding your own way. Vasya has been different from her siblings since day one but her mother told her father she would. Unfortunately, her mother isn't around to teach Vasya the ways of her ancestors. So, Vasya through her younger years and as she becomes older has to rely on herself. Obviously because of this factor she has limited understanding and doesn't understand her place in the current struggle between the old ways and the church. It doesn't help that her step-mother has forbidden practicing the old ways which honored the spirits and protected the village.
Vasya needs to learn to trust herself and her instincts very early. She needs to learn that she is different and that she needs to be the one to protect her family. She will need to rebel against her father, step-father and the local priest. Vasya is a strong, independent heroine that will need to learn how to harness her powers because not everyone will understand.
Ms. Arden has done a fantastic job of creating a unique world that enraptures you from the very beginning. It is one that gets your imagination going and you can vividly see the forest that they live in.
While I did feel that some of the middle of the novel could have been edited down, I loved the climax and very much look forward to the next book,
The Girl in the Tower
, which is released in December.
If you are a fan of Harry Potter and/or The Lord of the Rings trilogy, you will want to check out this series.

Google+