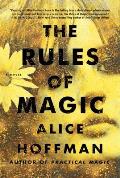 Author: Alice Hoffman
Series: Practical Magic #0
Publication Date: October 10, 2017
Publisher: Simon & Schuster
Pages: 384
Obtained: publisher via NetGalley
Genre: Historical Fiction, Magical Realism
Rating: 5/5
Bottom Line: It's like meeting up with old friends


G

rab,

J

ust get it at the library, or

R

emove from your TBR list? Grab
Summary:
For the Owens family, love is a curse that began in 1620, when Maria Owens was charged with witchery for loving the wrong man. Hundreds of years later, in New York City at the cusp of the sixties, when the whole world is about to change, Susanna Owens knows that her three children are dangerously unique. Difficult Franny, with skin as pale as milk and blood red hair, shy and beautiful Jet, who can read other people's thoughts, and charismatic Vincent, who began looking for trouble on the day he could walk. From the start Susanna sets down rules for her children: No walking in the moonlight, no red shoes, no wearing black, no cats, no crows, no candles, no books about magic. And most importantly, never, ever, fall in love. But when her children visit their Aunt Isabelle, in the small Massachusetts town where the Owens family has been blamed for everything that has ever gone wrong, they uncover family secrets and begin to understand the truth of who they are. Back in New York City each begins a risky journey as they try to escape the family curse. The Owens children cannot escape love even if they try, just as they cannot escape the pains of the human heart. The two beautiful sisters will grow up to be the revered, and sometimes feared, aunts in Practical Magic, while Vincent, their beloved brother, will leave an unexpected legacy. Thrilling and exquisite, real and fantastical, The Rules of Magic is a story about the power of love reminding us that the only remedy for being human is to be true to yourself. ~amazon.com
Review:
Before you dive into
The Rules of Magic
, you might as well carve out a few hours because you won't want to put it down. Also, you don't have to have previous experience with the Owens' to thoroughly enjoy this novel. I loved how each of the Owens' siblings grew and changed but they always, always had each other and supported each other.
You have Franny who is the eldest, the most realistic and the most stern. You know she has a good heart but she's far too fearful of her family's legacy. As she begins to experience life it makes her harder and she puts her walls up to protect herself and those she loves. She's definitely the leader of the 3 of them and the one who might sacrifice the most for her siblings.
Jet is the one that everyone gravitates towards because she wears her emotions on her sleeve. She's the sensitive one. She's the one most likely to fall in love and not care what the family "curse" is. She wants to love and be loved. Jet is also the one, whom perhaps loses the most as well. She never seems to get over the loss of her love but maybe that was her destiny.
Vincent is the sibling that is most in-tune with their family legacy and gifts. He never denied who he was and he accepted it early on. While he appears to be aloof, he's sensitive like Jet but pragmatic like Franny.
Usually when there's a cast of characters, I end up liking one over the others but in this case, I loved them all because they each had unique voices. I loved how they were always there for each other and while they might not have always agreed with each others choices, they were supportive.
What it really boils down to is that no matter what path you follow in life, always be true to who you are and what you are. Learning to accept yourself is the key to a life without remorse. I loved how Ms. Hoffman brought us to the Owens' we love so much from
Practical Magic
. It definitely makes me want to curl up with them again, plus have a new appreciation for Jet and Franny.
This is the perfect blend of magic, family, love and acceptance. If you are a fan of Alice Hoffman, then you won't want to miss this novel. If you've never read her, what are you waiting for?

Google+