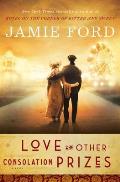 Author: Jamie Ford
Series: None
Publication Date: September 12, 2016
Publisher: Ballatine
Pages: 320
Obtained: publisher via NetGalley
Genre: Historical Fiction
Rating: 4/5
Bottom Line: Another winner from Mr. Ford about finding your place in the world no matter your start


G

rab,

J

ust get it at the library, or

R

emove from your TBR list? Grab or Library
Summary:
For twelve-year-old Ernest Young, a charity student at a boarding school, the chance to go to the World's Fair feels like a gift. But only once he's there, amid the exotic exhibits, fireworks, and Ferris wheels, does he discover that he is the one who is actually the prize. The half-Chinese orphan is astounded to learn he will be raffled off—a healthy boy "to a good home." The winning ticket belongs to the flamboyant madam of a high-class brothel, famous for educating her girls. There, Ernest becomes the new houseboy and befriends Maisie, the madam's precocious daughter, and a bold scullery maid named Fahn. Their friendship and affection form the first real family Ernest has ever known—and against all odds, this new sporting life gives him the sense of home he's always desired. But as the grande dame succumbs to an occupational hazard and their world of finery begins to crumble, all three must grapple with hope, ambition, and first love. Fifty years later, in the shadow of Seattle's second World's Fair, Ernest struggles to help his ailing wife reconcile who she once was with who she wanted to be, while trying to keep family secrets hidden from their grown-up daughters. Against a rich backdrop of post-Victorian vice, suffrage, and celebration, Love and Other Consolations is an enchanting tale about innocence and devotion—in a world where everything, and everyone, is for sale. ~amazon.com
Review:
Love & Other Consolation Prizes
covered a part of history that I wasn't aware of and I love when books do that. It is amazing that even in the early 1900s people were sold to be servants but I guess I shouldn't be so shocked. Ernest was an orphan after coming over from China and ends up in a home for boys with a benefactor who decides to auction him off to the highest bidder during the 1909 AYP World's Fair. While the benefactor might not have been enthusiastic about the fact that the highest bidder was a Madam, it turned out to be the best thing for Ernest. It seems his destiny was set in motion on that boat from China.
As Ernest gets settled at Madam Flora's he learns where he's living and how they make their living. It is also where he falls in love with two very different girls but yet very similar. Both of them also love Ernest is a very true and pure sense. Both girls are destined to be strong women who succeed in what they do but one needs Ernest more than the other. I enjoyed that Ernest told his story to his daughter, JuJu, because she was researching the previous world's fair and found out that he had been the young man that was auctioned off. He was hesitant to tell his story because of the way it intertwined with their mother, Gracious. Gracious is in failing health and her memories come and go, she doesn't always remember Ernest but ever since JuJu mentioned the world's fair, she's been talking more about the past.
While most of the story was a bit predictable there were a couple twists and turns that I didn't see coming. I enjoyed the symbiotic relationship between Fahn, Maisie and Ernest. I'm fairly certain both girls knew the other one was in love with Ernest but they didn't fight over him and they didn't let it get in the way of their friendship.
I appreciate the amount of detail that Mr. Ford goes into for both time periods. Especially in earlier parts of the novel it felt that you were really there. I could hear the sounds and could picture the brothel. I could see the spectacles that Madam Flora put on for her clientele. Any author who can transport you to another time period, is well worth reading.
Love & Other Consolation Prizes
is well worth the read.

Google+