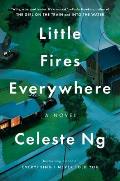 Author: Celeste Ng
Series: None
Publication Date: September 12, 2017
Publisher: Penguin Press
Pages: 352
Obtained: publisher via Edelweiss+
Genre: Contemporary Fiction
Rating: 5/5
Bottom Line: A must read


G

rab,

J

ust get it at the library, or

R

emove from your TBR list? Grab
Summary:
In Shaker Heights, a placid, progressive suburb of Cleveland, everything is planned – from the layout of the winding roads, to the colors of the houses, to the successful lives its residents will go on to lead. And no one embodies this spirit more than Elena Richardson, whose guiding principle is playing by the rules. Enter Mia Warren – an enigmatic artist and single mother – who arrives in this idyllic bubble with her teenaged daughter Pearl, and rents a house from the Richardsons. Soon Mia and Pearl become more than tenants: all four Richardson children are drawn to the mother-daughter pair. But Mia carries with her a mysterious past and a disregard for the status quo that threatens to upend this carefully ordered community. When old family friends of the Richardsons attempt to adopt a Chinese-American baby, a custody battle erupts that dramatically divides the town--and puts Mia and Elena on opposing sides. Suspicious of Mia and her motives, Elena is determined to uncover the secrets in Mia's past. But her obsession will come at unexpected and devastating costs. Little Fires Everywhere explores the weight of secrets, the nature of art and identity, and the ferocious pull of motherhood – and the danger of believing that following the rules can avert disaster. ~amazon.com
Review:
Little Fires Everywhere
should be the book that everyone is talking about this fall. It is such a well-written and crafted story. There are a few different story lines but they all converge together in the end and they each add an element to the overarching themes. Each of the characters have flaws but they also have redeeming qualities that perhaps, in time, will outweigh the flaws.
The book starts with the Richardson house being on fire and goes back to the events that lead up to this event. From there we are introduced to the tenants, Mia and her daughter Pearl plus the entire Richardson clan headed by the matriarch Mrs. Eleana Richardson. It's easy to look at their life and to think they have it all, great jobs, great kids (for the most part), great house = great life. As we know things aren't always what they seem but they aren't that bad. It would be easy to dislike the Richardson family but I found them likable. They worked for where they got to and prided themselves on building their lives. None of their kids are perfect as we find out but the one that is considered the "black sheep" of the family is the youngest daughter, Izzy. Izzy and her mom are alike and therefore they butt-heads.
Mia and Pearl are travelers/vagabonds and when they end up in Shaker Heights, Mia promises Pearl that this is it, they are staying put. So Pearl starts to make friends and make an effort at school. Her best friend is Moody Richardson and soon she is at their house after school hanging out and getting to know his siblings, Lexie and Trip. It's not hard to see the writing on the wall when it comes to Trip and Pearl. What I liked is that the Richardson kids are pretty much typical teenagers who find themselves in situations that occur on a regular basis and deal with them as teenagers would.
Pearl is wise beyond her years and as things start to unravel, she's the one who can see the situation the clearest.
There were times when I vacillated between liking Mia and wanting to throttle her. As her back story is uncovered, I spent most of my time wanting to throttle her because of the choices she made. It also made me understand as a reader, why she was always on the move. She did have an uncanny way of reading people and demonstrating that in her art.
I truly enjoyed reading each story-line and then having them all converge in a way that was realistic. If you read one book this fall, I highly recommend
Little Fires Everywhere
.

Google+