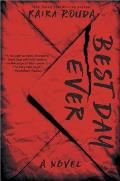 Author: Kaira Rouda
Series: None
Publication Date: September 19, 2017
Publisher: Graydon House
Pages: 368
Obtained: GetRedPR
Genre: Psychological Thriller
Rating: 4.5/5
Bottom Line: A fantastic novel in the domestic thriller genre


G

rab,

J

ust get it at the library, or

R

emove from your TBR list? Grab
Summary
: Paul Strom has the perfect life: a glittering career as an advertising executive, a beautiful wife, two healthy boys and a big house in a wealthy suburb. And he's the perfect husband: breadwinner, protector, provider. That's why he's planned a romantic weekend for his wife, Mia, at their lake house, just the two of them. And he's promised today will be the best day ever. But as Paul and Mia drive out of the city and toward the countryside, a spike of tension begins to wedge itself between them and doubts start to arise. How much do they trust each other? And how perfect is their marriage, or any marriage, really? Forcing us to ask ourselves just how well we know those who are closest to us, Best Day Ever crackles with dark energy, spinning ever tighter toward its shocking conclusion. ~amazon.com
Review
:If you aren't keen on unreliable narrators, then you might want to skip
Best Day Ever
BUT you'll be making a huge mistake. HUGE. Paul Strom is successful, he's got a great career, wife, kids, the whole American dream. He's is literally living the dream. As Paul begins to tell us the story of how this is going to be the "Best Day Ever" you start to understand that maybe he's not telling you everything you need to know. He's keeping his cards close to his chest. He's only going to tell us what he wants us to know and when.
We see his wife and his boys through his eyes. How perfect his boys are and how his wife is so beautiful but something is amiss. Something doesn't feel right very early in the novel with Paul. He's off. He doesn't seem to have a grip on reality. It's clear that while he might think that this will be the "Best Day Ever" it's for a very different reason than what his wife thinks.
As the book unravels, so does Paul. His shiny demeanor begins to show kinks and dents. He frankly, starts to lose his shit. Mia isn't as complacent as you first think she is. She's not as meek as the reader thinks or certainly as Paul thinks. You keep hoping that something is going to happen where Paul realizes he isn't so smart but he's a narcissistic psychopath, so really that's not going to happen.
At a certain point in the novel you will give up everything you are doing or need to do to finish the book and you will know when that happens.
I've read a lot of books in this domestic suspense recently and Ms. Rouda's entry in it is superb. It reminds me a lot of
Behind Closed Doors
by B.A. Paris but definitely not the same. If you are into this sub-genre of psychological thrillers then you should pick this one up post haste.

Google+