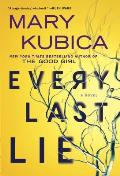 Author: Mary Kubica
Series: None
Publication Date: June 27, 2017
Publisher: Park Row Books
Pages: 336
Obtained: publisher via Netgalley
Genre: Mystery, Suspense
Rating: 3.5/5
Bottom Line: A quick paced novel about losing grip on reality and finding the way back


G

rab,

J

ust get it at the library, or

R

emove from your TBR list? Library
Summary:
Clara Solberg's world shatters when her husband and their four-year-old daughter are in a car crash, killing Nick while Maisie is remarkably unharmed. The crash is ruled an accident…until the coming days, when Maisie starts having night terrors that make Clara question what really happened on that fateful afternoon. Tormented by grief and her obsession that Nick's death was far more than just an accident, Clara is plunged into a desperate hunt for the truth. Who would have wanted Nick dead? And, more important, why? Clara will stop at nothing to find out—and the truth is only the beginning of this twisted tale of secrets and deceit. Told in the alternating perspectives of Clara's investigation and Nick's last months leading up to the crash, master of suspense Mary Kubica weaves her most chilling thriller to date—one that explores the dark recesses of a mind plagued by grief and shows that some secrets might be better left buried. ~amazon.com
Review:
Every Last Lie
is a novel that will keep you turning the pages to find out what exactly happened to Nick. Was the accident really his fault? Did someone run him off the road? Who is this bad man that their 4 year old, Maisie, keeps having nightmares about?
Honestly, I put myself in Clara's shoes for the entire book and I felt horrible for her. She's had no sleep since 6 months on due to the size of the baby and how he was sitting, so that's enough to make someone go a bit crazy plus she's days home with the baby and her husband died in a horrific accident. She's pretty much barely functioning, although sometimes I didn't think she was functioning at all.
As Maisie starts to have nightmares about the "bad man", Clara clings to this as evidence of foul play and that her husband wasn't truly responsible for his own death. Some one was after her husband, but who? Why? Her husband was a likable guy. We are also told the events leading up to the accident from Nick's POV.
It is evident that he loves and adores his wife, daughter and unborn child but other than that, he's not really a stand up guy. He's one of those people who have trouble living in reality and living beyond his means. He took on too much with the house that needed renovating and then opening his own practice. He wanted to keep up with the Jones' without being able to do so. He makes poor decisions that ultimately lead to more poor decisions. He never lets Clara in on it, so he takes all his problems to the grave.
It isn't until the end of the novel that you feel that Clara is finally starting to understand things clearly and yet you wonder if she'll ever fully recover from the issues that Nick's death dealt her.
I really enjoyed
Every Last Lie
especially with a good twist at the end. If you are looking for a new thriller/suspense author and you haven't read Ms. Kubica, then her back-list is ready for you to read.

Google+