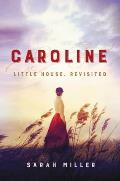 Author: Sarah Miller
Series: None
Publication Date: September 19, 2017
Publisher: William Morrow
Pages: 384
Obtained: publisher via Edelweiss+
Genre: Historical Fiction
Rating: 3.75/5
Bottom Line: A fascinating look at Ma from Little House on the Prairie fame


G

rab,

J

ust get it at the library, or

R

emove from your TBR list? Library
Summary:
In this novel authorized by the Little House estate, Sarah Miller vividly recreates the beauty, hardship, and joys of the frontier in a dazzling work of historical fiction, a captivating story that illuminates one courageous, resilient, and loving pioneer woman as never before—Caroline Ingalls, "Ma" in Laura Ingalls Wilder's beloved Little House books. In the frigid days of February, 1870, Caroline Ingalls and her family leave the familiar comforts of the Big Woods of Wisconsin and the warm bosom of her family, for a new life in Kansas Indian Territory. Packing what they can carry in their wagon, Caroline, her husband Charles, and their little girls, Mary and Laura, head west to settle in a beautiful, unpredictable land full of promise and peril. The pioneer life is a hard one, especially for a pregnant woman with no friends or kin to turn to for comfort or help. The burden of work must be shouldered alone, sickness tended without the aid of doctors, and babies birthed without the accustomed hands of mothers or sisters. But Caroline's new world is also full of tender joys. In adapting to this strange new place and transforming a rough log house built by Charles' hands into a home, Caroline must draw on untapped wells of strength she does not know she possesses. For more than eighty years, generations of readers have been enchanted by the adventures of the American frontier's most famous child, Laura Ingalls Wilder, in the Little House books. Now, that familiar story is retold in this captivating tale of family, fidelity, hardship, love, and survival that vividly reimagines our past. ~amazon.com
Review:
First of all, I would have never made it as a Pioneer woman. So I have much respect for everything they had to do to keep their families alive and well as documented in
Caroline: Little House, Revisited
.
Caroline Ingalls is a marvel but even more so is her marriage to Charles. He treated her like an equal when I'm pretty sure men in the time didn't always share that view. He was head over heels for her and she with him. He respected her opinion and valued it. She knew what was expected of her but it didn't stop her from wanting a bit more than what was in front of her.
While Caroline knew that leaving her comfort zone with her family to lean on and help. Not to mention when it come to working the farm, she knew it would be more difficult for them to manage on their own. She would need to help more while also tending to the 2 girls and the new baby on the way.
There are subject matters that aren't easy to read about in the book but are typical of that time period. Caroline has a huge distrust and bigotry towards Native Americans. I can see why she was scared at certain points but really they were being pushed off their land. I'm not sure if she understood the magnitude of that decision.
It is obvious that Ms. Miller did her research on Caroline and the time period. It shows in the writing of the details. At times it feels that you are in the wagon or on the plains with them. Ms. Miller chose to focus on the period of time in the Ingalls' lives that moved them from Wisconsin to Kansas instead of her entire life.
If you are a fan of the Little House House series, then you won't want to miss
Caroline: Little House, Revisited
. It made me want to go pull out my daughter's books again.

Google+