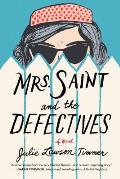 Author: Julie Lawson Timmer
Series: None
Publication Date: August 1, 2017
Publisher: Lake Union Books
Pages: 336
Obtained: Publicist via Netgalley
Genre: Contemporary Fiction
Rating: 4/5
Bottom Line: A novel with depth that wasn't expected but enjoyed


G

rab,

J

ust get it at the library, or

R

emove from your TBR list? Library
Summary:
Markie, a fortysomething divorcée who has suffered a humiliating and very public fall from marital, financial, and professional grace, moves, along with her teenage son, Jesse, to a new town, hoping to lick her wounds in private. But Markie and Jesse are unable to escape the attention of their new neighbor Mrs. Saint, an irascible, elderly New European woman who takes it upon herself, along with her ragtag group of "defectives," to identify and fix the flaws in those around her, whether they want her to or not. What Markie doesn't realize is that Mrs. Saint has big plans for the divorcée's broken spirit. Soon, the quirky yet endearing woman recruits Markie to join her eccentric community, a world where both hidden truths and hope unite them. But when Mrs. Saint's own secrets threaten to unravel their fragile web of healing, it's up to Markie to mend these wounds and usher in a new era for the "defectives"—one full of second chances and happiness. ~amazon.com
Review:
Mrs. Saint and the Defectives
is a novel where the heroine might just rub you the wrong way at first but then she grows on you and by the end of the novel you will rejoice in her growth. For some reason when I first saw this title I read it at "Detectives" but then realized it was "Defectives", which had me curious.
Markie is a hard woman and one that is hard to like. You want to understand her and you want to empathize with her but at times she makes that so terribly impossible. Which is why I had mucho respect for Mrs. Saint who kept trying and trying to break down those wall. I get why Markie moved away from her posh neighborhood, school and life because what happened was embarrassing until the next scoop of gossip comes around and your situation is forgotten. Markie spends a lot of time blaming her ex for being selfish as well as her parents, not realizing that in her own way she is as well. She up and moved her son, Jessie, to another town before asking him what he wanted and expected him to adapt. So he shuts himself down and hibernates to his room in the basement.
It is really Mrs. Saint and her group of "defectives" that help pull Jessie out of his shell and bond with others. Eventually, through persistence, faith she broke down those walls of Markie's. Enough so that maybe she could make peace with herself, bond with her son and forgive her ex-husband.
There is also an underlying mystery around Mrs. Saint herself and her merry band of defectives. How are they bonded together? Why does she continue to help people who need help but don't know it? I loved how Ms. Timmer revealed her story at the end and really did feel like the missing pieces of the puzzle were coming together to make it whole.
I don't have to like a character in a book but I have to see them grow and change a bit, I'm not expecting a 180 because that's not realistic. Just some kind of revelation that makes them self-aware and Ms. Timmer accomplished that with Markie.
I highly recommend picking up a copy of
Mrs. Saint and the Defectives
to read; you won't regret it.

Google+