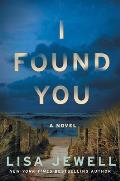 Author: Lisa Jewell
Series: None
Publication Date: April 25, 2017
Publisher: Atria
Pages: 352
Obtained: publisher via Netgalley
Genre: Mystery, Suspense
Rating: 4/5
Bottom Line: A page turner that will have you wondering how it all ties together


G

rab,

J

ust get it at the library, or

R

emove from your TBR list? Grab
Summary:
In the windswept British seaside town of Ridinghouse Bay, single mom Alice Lake finds a man sitting on a beach outside her house. He has no name, no jacket, and no idea how he got there. Against her better judgment, she invites him inside. Meanwhile, in a suburb of London, newlywed Lily Monrose grows anxious when her husband fails to return home from work one night. Soon, she receives even worse news: according to the police, the man she married never even existed. Twenty-three years earlier, Gray and Kirsty Ross are teenagers on a summer holiday with their parents. The annual trip to Ridinghouse Bay is uneventful, until an enigmatic young man starts paying extra attention to Kirsty. Something about him makes Gray uncomfortable—and it's not just because he's a protective older brother. Who is the man on the beach? Where is Lily's missing husband? And what ever happened to the man who made such a lasting and disturbing impression on Gray? ~amazon.com
Review:
If you want a page turning suspense and mystery novel, then
I Found You
is for you. The story is told in 3 different parts: Alice/Frank, Lily, Gray. Alice happens upon "Frank" as he's sitting on the beach staring at the sea with no recollection of what is going on, how he got there or who he is. Alice, who still believes in the good of people even though she shouldn't, invites him back to her house to sleep in the shed she rents out. She promises her best friend that she won't get involved, but that's just not who she is or what she does. So she tries to help Frank regain his memory by giving him a safe place to say and an ear to listen.
Outside of London, Lily is freaking out because her husband doesn't come home after work and doesn't answer her phone. This is strange because he always takes the same train and gets home at the same time every night. Of course, the police tell her to give it time and he might come home. When evidence suggest that her husband doesn't exist, Lily decides to take things into her own hands. Then we get the flashback story of Gray and Kirsty on their family vacation in Ridinghouse Bay. This is where they meet Mark Tate, a young man who is a little off but clearly besotted by Kirsty. Gray feels that there is something off about him but can't quite put his thoughts around it. He wants to believe that his instincts are right and he's not just jealous that his kid sister might get her first kiss before he does.
While I figured out a few things earlier in the novel, it didn't stop me from wanting to finish the book. I figured that the author had something up her sleeve and it wasn't as straight-forward as I thought. I loved how Ms. Jewell sewed all the story lines together in the end. I loved how she showcased that each of us is capable of crossing a line when we feel that our lives are in danger or the lives of those we love are in danger.
I forget how much I love a true mystery and suspense novel because I get so caught up in the domestic suspense/psychological thriller arena. Ms. Jewell should still with the mystery genre because she's knows how to write a good one.

Google+