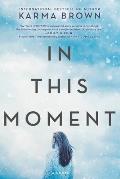 Author: Karma Brown
Series: None
Publication Date: May 30, 2017
Publisher: Park Row Books
Pages: 304
Obtained: publisher via Netgalley
Genre: Contemporary Fiction
Rating: 4/5
Bottom Line: How split second decision can alter your life and those around you


G

rab,

J

ust get it at the library, or

R

emove from your TBR list? Grab
Summary:
Meg Pepper has a fulfilling career and a happy family. Most days she's able to keep it all together and glide through life. But then, in one unalterable moment, everything changes. After school pickup one day, she stops her car to wave a teenage boy across the street…just as another car comes hurtling down the road and slams into him. Meg can't help but blame herself for her role in this horrific disaster. Full of remorse, she throws herself into helping the boy's family as he rehabs from his injuries. But the more Meg tries to absolve herself, the more she alienates her own family—and the more she finds herself being drawn to the boy's father. Soon Meg's picture-perfect life is unraveling before her eyes. As the painful secrets she's been burying bubble dangerously close to the surface, she will have to decide: Can she forgive herself, or will she risk losing everything she holds dear to her heart? ~amazon.com
Review:
In This Moment
is a novel that allows you to wonder what you would do if you were in Meg's shoes. Would you have waved a kid across at an intersection that had no crosswalk? Or perhaps you have and it turned out just fine but unfortunately for two families, this isn't what happened.
The accident spawns Meg's downward spiral into guilt, shame and anxiety. It has her reliving the death of her best friend in high school, which she still carries guilt around. It causes her to pull away from her husband and daughter. She doesn't know how to tell them about her involvement with Paige's death. She's internalized it for so long that she feels she can't verbalize it. It's what haunts her sleep. I felt as if I was experiencing the slow downward spiral with Meg, which was a good thing. It put you in her shoes and living what she was at the same time. I felt horrible for Meg but also wish she would have leaned on her husband or family a bit more.
As Meg struggles with the guilt of being part of an accident, her daughter Audrey is also struggling with her own issues from the accident. She turns to reckless behavior which she wasn't prone to previously. She also pulls away from her parents and begins to lie to them about her whereabouts.
My frustration throughout the novel was Ryan, Meg's husband and Audrey's dad. He seemed so oblivious about what they were going through. He saw the signs in both of them that said they weren't dealing properly with the accident but chose to believe they were both fine. It wasn't until things came crashing down around them that he finally acknowledged they weren't "fine". Some of Meg's decisions weren't smart but she was also reeling. I felt that Ryan needed to acknowledge his role in their issues as well.
Ms. Brown always writes engaging characters, with real life situations that you end up asking yourself how you would react. I can't wait to read what she publishes next.

Google+