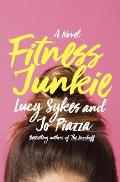 Author: Jo Piazza & Lucy Sykes
Series: None
Publication Date: July 11, 2017
Publisher: Doubleday
Pages: 304
Obtained: publisher via Netgalley
Genre: Contemporary Fiction, Humor
Rating: 4/5
Bottom Line: A delightful, funny book about the fitness industry fads


G

rab,

J

ust get it at the library, or

R

emove from your TBR list? Grab
Summary:
When Janey Sweet, CEO of a couture wedding dress company, is photographed in the front row of a fashion show eating a bruffin—the delicious lovechild of a brioche and a muffin—her best friend and business partner, Beau, gives her an ultimatum: Lose thirty pounds or lose your job. Sure, Janey has gained some weight since her divorce, and no, her beautifully cut trousers don't fit like they used to, so Janey throws herself headlong into the world of the fitness revolution, signing up for a shockingly expensive workout pass, baring it all for Free the Nipple yoga, sweating through boot camp classes run by Sri Lankan militants and spinning to the screams of a Lycra-clad instructor with rage issues. At a juice shop she meets Jacob, a cute young guy who takes her dumpster-diving outside Whole Foods on their first date. At a shaman's tea ceremony she meets Hugh, a silver fox who holds her hand through an ayahuasca hallucination And at a secret exercise studio Janey meets Sara Strong, the wildly popular workout guru whose special dance routine has starlets and wealthy women flocking to her for results that seem too good to be true. As Janey eschews delicious carbs, pays thousands of dollars to charlatans, and is harassed by her very own fitness bracelet, she can't help but wonder: Did she really need to lose weight in the first place? A hilarious send-up of the health and wellness industry, Fitness Junkie is a glorious romp through the absurd landscape of our weight-obsessed culture. ~Amazon.com
Review:
I'm not a fitness fanatic, okay I don't even really like working out because it feels like a chore, so the women in Fitness Junkie, who are obsessed with every trend, I don't get them. Seriously. I get the need to be healthy and well (I need to be better at it) but these women view it as their lives and in some ways a competition. Who's into the newest trend? Have you been invited to the super secret workout location? What about this diet and that, etc? To me, it seems like they are bored and trying to find ways of filling a void.
What Ms. Piazza and Ms. Sykes do well is satire of an industry that seems to be a bit full of itself. No one in the fitness/lifestyle world is without reproach. Their heroine, Janey, even begins to drink the kool-aid for a while until she drank too much of it. Janey's best friend, Beau, tells her that she needs to take a 3 month break from their successful business so that she can lose 30 lbs she's put on. She's the face of the business and well she can't be seen as she is currently. So she turns to her best gal pal, CJ, who is always on the up and up on the lastest fitness routine and dietary restrictions.
Of course, the novel isn't just about fitness, but it's about Janey's journey into figuring out what it is that she wants to do for the rest of her life and if some friendships really do have an expiration date. I loved Janey and wanted her to go after Beau in the worst way but in the end I think she got him where it really counted and when it counted.
For those that love a book with a sense of humor and purpose, then
Fitness Junkie
is for you.

Google+