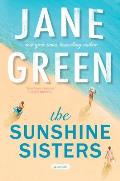 Author: Jane Green
Series: None
Publication Date: June 6, 2017
Publisher: Berkeley
Pages: 384
Obtained: Publisher via First to Read
Genre: Contemporary Fiction, Women's Fiction
Rating: 4/5
Bottom Line: No one does family drama like Jane Green


G

rab,

J

ust get it at the library, or

R

emove from your TBR list? Grab
Summary:
Ronni Sunshine left London for Hollywood to become a beautiful, charismatic star of the silver screen. But at home, she was a narcissistic, disinterested mother who alienated her three daughters. As soon as possible, tomboy Nell fled her mother's overbearing presence to work on a farm and find her own way in the world as a single mother. The target of her mother's criticism, Meredith never felt good enough, thin enough, pretty enough. Her life took her to London—and into the arms of a man whom she may not even love. And Lizzy, the youngest, more like Ronni than any of them, seemed to have it easy, using her drive and ambition to build a culinary career to rival her mother's fame, while her marriage crumbled around her. But now the Sunshine sisters are together again, called home by Ronni, who has learned that she has a serious disease and needs her daughters to fulfill her final wishes. And though Nell, Meredith, and Lizzy have never been close, their mother's illness draws them together to confront the old jealousies and secret fears that have threatened to tear these sisters apart. As they face the loss of their mother, they will discover if blood might be thicker than water after all. ~amazon.com
Review:
I haven't missed a Jane Green book since she started publishing them and
The Sunshine Sisters
is what I expect from her; perfect blend of drama and humor. Ronni Sunshine isn't very likable and was a horrible mother. She was/is self-absorbed and rude. She, at least on her deathbed, recognizes what an ass she was to her girls. All of them have been effected in different ways but mostly they have moved on, until she summons them all home. The novel isn't so much about Ronni Sunshine as it is about the destruction she leaves in her wake.
Nell, the oldest, took the brunt of the moods while trying to shield Meredith and Lizzy from them. You can only shield them so much. Meredith was the sensitive one and didn't know how to back away from her mother when she was in her moods. Lizzy is the baby and pretty much got away with whatever she wanted. What Ronni did was not only alienate them from her but she alienated them from each other.
For years they lived separate lives, only calling when necessary. They were never there for each other and drifted apart. Meredith is getting married and none of her family is invited. Nell lives 20 minutes away from her mom running a farm and never sees her. Meredith took off for London and hasn't looked back. Lizzy has crafted a successful business of her own in NYC.
I enjoyed learning about all the sisters and their lives as adults. I found Meredith's story to be the one that I thought was probably the most real. She's the one that struggles from all the emotional abuse that her mother dosed out. She's the one that questions her decisions and then settles for a career and man who aren't worthy of her. Nell is the one who built a wall up around herself but I'm not so sure it has so much to do with Ronni as it does with having a child young and having the father walk out on you. Lizzy, well she's the entertaining one in the family. She's always needed to be the center of attention and now she has all the attention she wants from her career. She's not happy though and her priorities are messed up. Maybe being around her sisters can bring her back to reality.
Jane always crafts a great story that is accessible and grounded in great characters. The Sunshine Sisters joins that history.
The Sunshine Sisters
is about finding your way home and accepting who you are all the good bad and ugly of it.

Google+