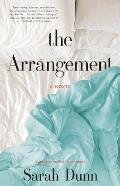 Author: Sarah Dunn
Series: None
Publication Date: March 21, 2017
Publisher: Little, Brown & Company
Pages: 368
Obtained: Local Library
Genre: Contemporary Fiction
Rating: 3/5
Bottom Line: Fell flat


G

rab,

J

ust get it at the library, or

R

emove from your TBR list? Library
Summary:
Lucy and Owen, ambitious, thoroughly-therapized New Yorkers, have taken the plunge, trading in their crazy life in a cramped apartment for Beekman, a bucolic Hudson Valley exurb. They've got a two hundred year-old house, an autistic son obsessed with the Titanic, and 17 chickens, at last count. It's the kind of paradise where stay-at-home moms team up to cook the school's "hot lunch," dads grill grass-fed burgers, and, as Lucy observes, "chopping kale has become a certain kind of American housewife's version of chopping wood." When friends at a wine-soaked dinner party reveal they've made their marriage open, sensible Lucy balks. There's a part of her, though-the part that worries she's become too comfortable being invisible-that's intrigued. Why not try a short marital experiment? Six months, clear ground rules, zero questions asked. When an affair with a man in the city begins to seem more enticing than the happily-ever-after she's known for the past nine years, Lucy must decide what truly makes her happy-"real life," or the "experiment?" ~amazon.com
Review:
I had huge hopes for
The Arrangement
based on the buzz and recommendation of some people I respect but it fell short for me. I was expecting the same kind of humor that I find in Ms. Dunn's show American Housewife but it wasn't there for me.
Lucy and Owen are yuppies to the nth degree. They moved to Beekman to have quality of life and to raise their son Wyatt. Wyatt is on the autism spectrum and is most definitely a handful. Lucy has lost herself to raising him and getting him the therapy he needs. So she could careless that her hair is greasy, always in sweats and barely getting dinner on the table. Owen is helpful with Wyatt, as he should be, but he does get to leave and go socialize. One night while drinking a lot, they have a discussion with friends about an "open marriage". What starts off as a joke quickly becomes something that they both agree to do but only for 6 months. 6 months is a long enough time for things to go very wrong.
There is no doubt in my mind that both Lucy and Owen are fantastic parents and I really do believe they loved each other but this 6 month experiment was the very wrong way to go about it. There are other ways to light the spark in your marriage to find yourself again. What pissed me off the most was how Owen assumed that Lucy would never partake in it, even if it was her idea. I mean, why not? Why do you have to be the only one to have all the fun? I think it's what insulted Lucy the most as well.
Trust me I have a sense of humor and I could even laugh at the concept of an open marriage if it was written a bit differently. I was actually expecting a more humorous look at it but didn't get it. There were parts of the novel that had me chuckling (Hello, Sunny Bang) but most of the time I just felt that Lucy and Owen were completely selfish. Not once did one of them say no, let's not do this.
How do you go from having a monogamous relationship to an open one? To me, that's something you go into a relationship knowing/doing and not change during the course. So this experiment was doomed from the start. Real life and marriage isn't dating. It's learning to live with some one faults and all through the peaks and valleys. Sometimes the valleys last longer than you hope but you climb your way out.
If your curious what all the hype is about with
The Arrangement
, read it, it won't take you long. If you decide to skip it though, you won't miss too much either.

Google+