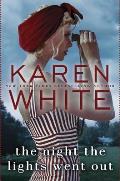 Author: Karen White
Series: None
Publication Date: April 11, 2017
Publisher: Berkley
Pages: 416
Obtained: publisher via NetGalley
Genre: Contemporary Fiction, Historical Fiction
Rating: 4/5
Bottom Line:A wonderful story about friendships that are cemented by similar experiences not age


G

rab,

J

ust get it at the library, or

R

emove from your TBR list? Grab
Summary:
Recently divorced, Merilee Talbot Dunlap moves with her two children to the Atlanta suburb of Sweet Apple, Georgia. It's not her first time starting over, but her efforts at a new beginning aren't helped by an anonymous local blog that dishes about the scandalous events that caused her marriage to fail. Merilee finds some measure of peace in the cottage she is renting from town matriarch Sugar Prescott. Though stubborn and irascible, Sugar sees something of herself in Merilee—something that allows her to open up about her own colorful past. Sugar's stories give Merilee a different perspective on the town and its wealthy school moms in their tennis whites and shiny SUVs, and even on her new friendship with Heather Blackford. Merilee is charmed by the glamorous young mother's seemingly perfect life and finds herself drawn into Heather's world. In a town like Sweet Apple, where sins and secrets are as likely to be found behind the walls of gated mansions as in the dark woods surrounding Merilee's house, appearance is everything. But just how dangerous that deception can be will shock all three women....~amazon.com
Review:
The Night the Lights Went Out
is about rebuilding your life, learning to trust those around you and letting go of the past. When Sugar Prescott rents her cottage to a recently divorced Merilee Dunlap she doesn't expect to be drawn to her and her children. She doesn't plan to infiltrate their lives but it happens.
Merilee Dunlap is looking to start over after she gets a divorce husband and the cottage seems like the perfect place for her and her two kids to move. They also will start a new school due to their father's affair with a teacher. Merilee quickly finds herself ensconced with Heather Blackford and the other mom's that run the school. As Merilee struggles to learn how to balance it all without having a husband there to help, she is easy to identify with and cheer for.
Merilee and Sugar have more in common than they even know until some of Merilee's past begins to come to light. Sugar finds herself wanting to protect and defend Merilee even though she thought she had closed off her heart.
There is much mystery in
The Night the Lights Went Out
as well. Both Merilee and Sugar have secrets and pain in their past. What secrets they are holding onto are slowly revealed in bread crumbs laid out for the reader. I loved both Sugar and Merilee but I think I found Sugar's past more fascinating than Merilee's but probably because I put Merilee's story together fairly early on.
If you are a fan of mysteries and of Karen White's novels, then you definitely won't want to miss out on this one.

Google+