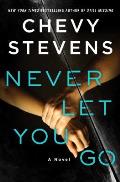 Author: Chevy Stevens
Series: None
Publication Date: March 14, 2017
Publisher: St. Martin's Press
Pages: 368
Obtained: publisher via NetGalley
Genre: Psychological Thriller
Rating: 4.25/5
Bottom Line: Another stellar thriller by one of my favorite authors


G

rab,

J

ust get it at the library, or

R

emove from your TBR list? Grab
Summary:
Eleven years ago, Lindsey Nash escaped into the night with her young daughter and left an abusive relationship. Her ex-husband, Andrew, was sent to jail and Lindsey started over with a new life. Now, Lindsey is older and wiser, with her own business and a teenage daughter who needs her more than ever. When Andrew is finally released from prison, Lindsey believes she has cut all ties and left the past behind her. But she gets the sense that someone is watching her, tracking her every move. Her new boyfriend is threatened. Her home is invaded, and her daughter is shadowed. Lindsey is convinced it's her ex-husband, even though he claims he's a different person. But has he really changed? Is the one who wants her dead closer to home than she thought? With Never Let You Go, Chevy Stevens delivers a chilling, twisting thriller that crackles with suspense as it explores the darkest heart of love and obsession
Review:
What Lindsey is put through is enough to break the spirit of any human but Lindsey is resilient. She's built a solid life for herself and her daughter after escaping her abusive husband. She's pulled together her own cleaning business and Sophie is a well adjusted teenager but then her ex is released from prison and things slowly, then quickly spiral out of control. Andrew is back weaseling himself back into Lindsey's life by trying to develop a relationship with their daughter Sophie.
Sophie feels the pull of developing a relationship with her father, after all he never did anything to her but she also feels guilty for going behind her mom's back to meet with him. She tries to convince herself it's because her mom wouldn't understand and would be irrational but she knows it's wrong. As more and more things start to happen to her mom, Sophie pulls back. Not to mention her blossoming relationship with Jared and how he's a bit possessive of her. Lindsey is a bit apprehensive about Jared because he reminds her a bit too much of Andrew.
As Lindsey feels pushed to the edge, she tries to make changes to her life to feel like it's back in control. She decides to move them from their house and to stay with friends until Andrew is brought in for questioning and she feels that both her and Sophie are safe.
The tension of the novel ratchets up with each page that you turn. You feel the pain and how scared Lindsey is for her safety.
Never Let You Go
is a heart pumping, spine tingling book that you won't want to put down until you read the last page.
.

Google+