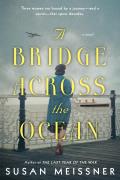 Author: Susan Meissner
Series: None
Publication Date: March 21, 2017
Publisher: Berkley
Pages: 384
Obtained: publisher via Netgalley
Genre: Contemporary Fiction, Historical Fiction
Rating: 3.75/5
Bottom Line: A light-hearted read that I read at the perfect time


G

rab,

J

ust get it at the library, or

R

emove from your TBR list? Library
Summary:
February, 1946. World War Two is over, but the recovery from the most intimate of its horrors has only just begun for Annaliese Lange, a German ballerina desperate to escape her past, and Simone Deveraux, the wronged daughter of a French Résistance spy. Now the two women are joining hundreds of other European war brides aboard the renowned RMS Queen Mary to cross the Atlantic and be reunited with their American husbands. Their new lives in the United States brightly beckon until their tightly-held secrets are laid bare in their shared stateroom. When the voyage ends at New York Harbor, only one of them will disembark...Present day. Facing a crossroads in her own life, Brette Caslake visits the famously haunted Queen Mary at the request of an old friend. What she finds will set her on a course to solve a seventy-year-old tragedy that will draw her into the heartaches and triumphs of the courageous war brides—and will ultimately lead her to reconsider what she has to sacrifice to achieve her own deepest longings. ~amazon.com
Review:
A Bridge Across the Ocean
is a wonderful historical fiction novel with a bit of supernatural thrown into it to make it a bit more mysterious. I wasn't expecting that and enjoyed the spin that it put on the novel. Usually there's a story line that I enjoy more between the present day and the historical but in this case they were pretty equal. It helps that we were also dealing with intersecting stories with Annaliese and Simone in 1946; whereas Brette's was all her own. I do think that they couldn't all have converged if it wasn't for the supernatural element. As Brette struggles with her family's legacy and gift, she is contacted by a high school acquaintance to help his daughter process the death of her mother. It is because of this that she starts to investigate the past of Anneliese Lange.
Her husband is also pressing her to start a family and given how her family's gift is passed down she's a little hesitant. It's not that she doesn't want a family, she's just unsure how she feels about her legacy and that of her ancestors. Both Annaliese and Simone suffer greatly at the hands of the Nazi's but in vastly different ways. Simone loses both her father and brother brutally and then loses her innocence. She then finds refuge in the cellar of a winery where she tends to an injured American soldier. Annaliese is a gifted ballerina who catches the eye of Nazi Officer, Rolf Kurtz. While she doesn't love him, she has no choice but to marry him for fear of retribution on her family. She suffers greatly at the hands of her husband until she decides to take her fate into her own hands and escape. It's not easy for her until she finds refuge with an old friend.
For the me the best part of the novel was when it all comes together in both flashbacks and coinciding present day and how Ms. Meissner used alternating chapters to unfold the story. I appreciated Brette's journey but it is the stories of Annaliese and Simone that will be embedded in my head long after I closed this book.
If you are a fan of historical fiction but might enjoy a different twist then
A Bridge Across the Ocean
.

Google+