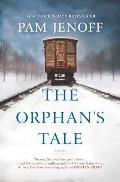 Author: Pam Jenoff
Series: None
Publication Date: February 21, 2017
Publisher: MIRA
Pages: 368
Obtained: publisher via NetGalley
Genre: Historical Fiction
Rating: 4/5
Bottom Line: A wonderful story of female friendship


G

rab,

J

ust get it at the library, or

R

emove from your TBR list? Library
Summary:
Sixteen-year-old Noa has been cast out in disgrace after becoming pregnant by a Nazi soldier and being forced to give up her baby. She lives above a small rail station, which she cleans in order to earn her keep… When Noa discovers a boxcar containing dozens of Jewish infants bound for a concentration camp, she is reminded of the child that was taken from her. And in a moment that will change the course of her life, she snatches one of the babies and flees into the snowy night. Noa finds refuge with a German circus, but she must learn the flying trapeze act so she can blend in undetected, spurning the resentment of the lead aerialist, Astrid. At first rivals, Noa and Astrid soon forge a powerful bond. But as the facade that protects them proves increasingly tenuous, Noa and Astrid must decide whether their friendship is enough to save one another—or if the secrets that burn between them will destroy everything. ~amazon.com
Review:
The Orphan's Tale
is the story of a female friendship that develops during the worst of times. It is the story of how 2 women became friends when they could have become adversaries. It is also the story of 2 women who are orphaned for very different reason and the novel intersects their stories.
Noa was kicked out by her parents because she was pregnant.After the birth of her child, she finds herself working at a rail station. One night she decides to venture out to take a look at the train cars only to find a box car full of children. It is then when Noa decides to be brave by rescuing one of them. She quickly escapes by foot only to realize she has no place to go. Luckily for her someone from the circus finds her and brings her to Herr Althoff. He decides that she will be an aerialist and instructs Astrid to train her.
While Astrid's story isn't the same as Noa, there are similarities. She found herself in love and married to a Reich officer. She was in the glow of being a newlywed when he came home and told them that their marriage was being absolved and she needed to leave immediately. She finds herself back at her family's house only to find that no one is there and the Nazi's are occupying it. Herr Althoff takes her in as well and she finds refuge once again in performing.
I love stories that involve the circus and I also love learning new facts about World War II; like how the circus hid people from the Nazis as much as they could. That normal, everyday people did something that made a difference. Maybe they weren't huge acts but they were acts that saved lives and perhaps even endangering their lives in the process.
I enjoyed the story very much but felt the pace at times was a bit slow for my liking but it did speed up in the end. I appreciate the research Ms. Jenoff put into her novels which made it feel that much more authentic.
If you are a history buff and this information is new to you or maybe it's not but you want a deeper look at it, then you won't want to miss
The Orphan's Tale
.

Google+