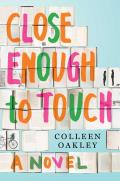 Author: Colleen Oakly
Series: None
Publication Date: March 7, 2017
Publisher: Gallery Books
Pages: 336
Obtained: publisher
Genre: Contemporary Fiction
Rating: 4.5/5
Bottom Line: Just a wonderful read


G

rab,

J

ust get it at the library, or

R

emove from your TBR list? Grab
Summary:
Love has no boundaries...Jubilee Jenkins has a rare condition: she's allergic to human touch. After a nearly fatal accident, she became reclusive, living in the confines of her home for nine years. But after her mother dies, Jubilee is forced to face the world—and the people in it—that she's been hiding from. Jubilee finds safe haven at her local library where she gets a job. It's there she meets Eric Keegan, a divorced man who recently moved to town with his brilliant, troubled, adopted son. Eric is struggling to figure out how to be the dad—and man—he wants so desperately to be. Jubilee is unlike anyone he has ever met, yet he can't understand why she keeps him at arm's length. So Eric sets out to convince Jubilee to open herself and her heart to everything life can offer, setting into motion the most unlikely love story of the year. ~amazon.com
Review:
Close Enough to Touch
is a book that will have you cheering for Jubilee from page one. What would you do if you couldn't have human touch? How would you survive? This is what Jubilee faces everyday and yet somehow she has to find a way to live after 9 years of being a recluse. You can say that she might not have literally died when a boy kissed her when she was 17 but something in her did die because after that she didn't leave her house for 9 years. When she's forced to because her cash flow has dried up, it takes her a while to get the hang of being around people or even just leaving her house.
She gets a job at the library and things are going well until Eric walks into her life. This is when her life starts to go Topsy-turvy. She's dealing with feelings that she hasn't experienced in 9 years and she has no clue how to deal with them. You want her to live her life even with her condition and to be brace and decide what is best for her.
Eric is a divorced dad of two whose teenage daughter refuses to speak to him but when he finds her journal he reads it in order to connect with her. It turns out to be a literary journal and he decides to read all the books she's noted in it. He sends her texts as he reads hoping for some response, some way to connect. He's also trying to find a way to help his adopted son, Aja, deal with the death of his parents and his obsession with telekinesis.
As much as
Close Enough to Touch
can be seen as a love story it is so much more than just that. It is about being brave enough to fight for the life that you want. It is about taking risks when to get to the next phase in your life, risks needs to be taken. It's about trusting yourself and trusting those closest to you but to also let go of the past. I think we all can learn from those themes.
I laughed a lot throughout this book. There are very poignant moments as well but mainly I found myself smiling. I haven't read Ms. Oakley's first book
Before I Go
but it has moved up a few notches in my TBR pile.

Google+