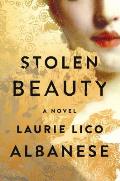 Author: Laurie Lico Albanese
Series: None
Publication Date: February 7, 2017
Publisher: /Atria Books
Pages: 320
Obtained: publisher
Genre: Historical Fiction
Rating: 4/5
Bottom Line: Historical Fiction mixed with true facts makes for a stunning debut


G

rab,

J

ust get it at the library, or

R

emove from your TBR list? Grab
Summary:
From the dawn of the twentieth century to the devastation of World War II, this exhilarating novel of love, war, art, and family gives voice to two extraordinary women and brings to life the true story behind the creation and near destruction of Gustav Klimt's most remarkable paintings. In the dazzling glitter of 1900 Vienna, Adele Bloch-Bauer—young, beautiful, brilliant, and Jewish—meets painter Gustav Klimt. Wealthy in everything but freedom, Adele embraces Klimt's renegade genius as the two awaken to the erotic possibilities on the canvas and beyond. Though they enjoy a life where sex and art are just beginning to break through the façade of conventional society, the city is also exhibiting a disturbing increase in anti-Semitism, as political hatred foments in the shadows of Adele's coffee house afternoons and cultural salons. Nearly forty years later, Adele's niece Maria Altmann is a newlywed when the Nazis invade Austria—and overnight, her beloved Vienna becomes a war zone. When her husband is arrested and her family is forced out of their home, Maria must summon the courage and resilience that is her aunt's legacy if she is to survive and keep her family—and their history—alive. Will Maria and her family escape the grip of Nazis' grip? And what will become of the paintings that her aunt nearly sacrificed everything for? ~amazon.com
Review:
Stolen Beauty
is the beautiful story of what it takes to keep your family history close to you and the struggle we go through to preserve it.
Maria Altmann is the heroine in this story with her fight against the Austrian government to get the painting of her aunt back into her family's hands. Having said that though the story is told through Adele's eyes in the early 1900s and then through Maria's during World War II.
Both of these women are fierce and strong in the very different ways. Adele is strong in fighting for the ability to be able to study and have interests besides keeping house and being a mom. She wants knowledge and art in her life; for it to be the focus. Maria is strong in the face of adversity and to try to save her marriage, her family and her history from the Nazi's.
Adele sees marriage to Ferdinand as a way out of her stifling house with her father whom refuses to give her the education she desperately wants. Even though she may not be "in love" with Ferdinand she is very fond of him and knows that he has the means to give her what she truly desires. Being married to Ferdinand gives her the access to the coffee houses, artists and free-thinkers that she desperately desires.
Maria knew she wanted to be with Fritz Altmann the minute she set eyes on him. Despite the rumors that he is involved with a married woman, she pursues him. It is only months after they are married that the Nazi's are in control of Austria and move to take over Vienna; including Fritz and his brother's factory.
Stolen Beauty
is the story of self-sacrifice for the ones we love and hold the closest. It is the story of holding your family's history close and fighting for what is right. While Adele fought for the right to learn, Maria fought for her life and the lives of her families. She got her strength from her aunt but she taught herself how to be strong and survive.

Google+