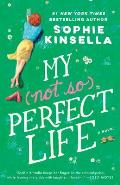 Author: Sophie Kinsella
Series: None
Publication Date: February 7, 2017
Publisher: Dial Press
Pages: 448
Obtained: publisher via NetGalley
Genre: Contemporary Fiction
Rating: 4.5/5
Bottom Line: Light fun read about figuring out that life isn't always what it seems either in the flesh or on social media


G

rab,

J

ust get it at the library, or

R

emove from your TBR list? Grab
Summary:
Part love story, part workplace drama, this sharply observed novel is a witty critique of the false judgments we make in a social-media-obsessed world.
New York Times
bestselling author Sophie Kinsella has written her most timely novel yet. Everywhere Katie Brenner looks, someone else is living the life she longs for, particularly her boss, Demeter Farlowe. Demeter is brilliant and creative, lives with her perfect family in a posh townhouse, and wears the coolest clothes. Katie's life, meanwhile, is a daily struggle—from her dismal rental to her oddball flatmates to the tense office politics she's trying to negotiate. No wonder Katie takes refuge in not-quite-true Instagram posts, especially as she's desperate to make her dad proud. Then, just as she's finding her feet—not to mention a possible new romance—the worst happens. Demeter fires Katie. Shattered but determined to stay positive, Katie retreats to her family's farm in Somerset to help them set up a vacation business. London has never seemed so far away—until Demeter unexpectedly turns up as a guest. Secrets are spilled and relationships rejiggered, and as the stakes for Katie's future get higher, she must question her own assumptions about what makes for a truly meaningful life. Sophie Kinsella is celebrated for her vibrant, relatable characters and her great storytelling gifts. Now she returns with all of the wit, warmth, and wisdom that are the hallmarks of her bestsellers to spin this fresh, modern story about presenting the perfect life when the reality is far from the truth. ~amazon.com
Review:
My Not So Perfect Life
is clever, funny and touching; pretty much everything I expect from a novel from Sophie Kinsella.Katie Brenner or Cat as she's known in London, is low man on the totem pole for a company that specializes in branding. She works for a high-profile woman who is slightly scary and a bit scatterbrained, but she's brilliant at her job. Katie hopes that she'll mentor her but Demeter is in her own world. Since Katie was small she's dreamt of living her life in London and even if she has to enter survey answers into a data base all day she's going to make it happen.
Of course, life always has to throw you a curve ball and Katie loses her job. At the same time her dad and step-mum decide to create a glamping (glamorous camping) business on the family farm. When Katie hears that her dad is just going to throw up some tents and call it a day, she jumps into action. She even offers to come out and help by taking a "sabbatical" from her job. Katie forces them to really make the farm a destination and takes charge of all the branding for it. Even brilliantly designing the pamphlet and website. They are quickly booked and business booms for them. Of course, someone from Katie's past has to show up to throw her game off.
Katie is a wonderful character who grows up a bit as the book goes on but never loses her positive outlook on life or on her talent. She doubts herself at times but never gives up hope. Demeter is a complex character as well. She's complex and not at all what she seems as well. How Katie and Demeter interact on the farm is hilarious and poignant as well. Katie want to exact revenge on her for chucking her out the door at her job; while Demeter is gullible and has no clue what is coming at her.
What I loved about the book is that Ms. Kinsella makes some very valid points: not everything you see on social media is representative and people aren't always what they seem (in the best way). Sometimes when you take the time to be honest with yourself and get to know those around you good things will happen. Get to know people because you want to instead of listening to the opinions or gossip of others.
Ms. Kinsella never disappoints me and I love breezing through them in a couple of sittings.
My Not So Perfect Life
is a wonderful addition to my collection of her books. If you haven't read her, you must and if you have, you will definitely will want to read this.

Google+