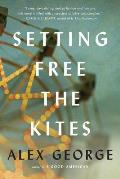 Author: Alex George
Series: None
Publication Date: February 21, 2017
Publisher: Putnam Books
Pages: 336
Obtained: publisher via Netgalley
Genre: Contemporary Fiction
Rating: 4.5/5
Bottom Line: A heart-wrenching story about the friendships that we have and hold onto


G

rab,

J

ust get it at the library, or

R

emove from your TBR list? Grab
Summary:
For Robert Carter, life in his coastal Maine hometown is comfortably predictable. But in 1976, on his first day of eighth grade, he meets Nathan Tilly, who changes everything. Nathan is confident, fearless, impetuous—and fascinated by kites and flying. Robert and Nathan's budding friendship is forged in the crucible of two family tragedies, and as the boys struggle to come to terms with loss, they take summer jobs at the local rundown amusement park. It's there that Nathan's boundless capacity for optimism threatens to overwhelm them both, and where they learn some harsh truths about family, desire, and revenge. Unforgettable and heart-breaking, Setting Free the Kites is a poignant and moving exploration of the pain, joy, and glories of young friendship. ~amazon.com
Review:
In the way that
Setting Free the Kites
begins, you know there is tragedy in the pages that follow but you also know that there is hope. Robert is a lonely 8th grade boy when he meets Nathan Tilly and his life becomes that much better. Once they meet they are inseparable and the best of friends.
Robert has lived an isolated life for a couple of reasons: everyone thinks his family is well off because they own the amusement park outside of time and he's got a brother who is sick and slowly dying. Robert doesn't know what it's like to be the focus of his parents because it's always been about Liam. Robert doesn't begrudge his brother but he also thinks of himself as invisible. This doesn't effect their relationship because Robert is often in Liam's room listening to the punk bands of the late 70s. It really isn't his choice in music but it makes Liam happy to share it and explain it. Once Nathan enters their lives they spend even more time listening to Liam's music and with Nathan he has a rapt audience.
Nathan is everything that Robert isn't: he's a dreamer and a daredevil. He loves to push the limits and doesn't think anything isn't out of reach. He forces Robert out of his comfort zone by challenging him to do things he would have never done before like exploring the old, deserted paper mill.
What Mr. George does so well is weaving hope in with the despair. He also highlights how important and influential our childhood friendships are to us throughout our lives. How they shape us for our adult lives. He shows that life doesn't always pave us an easy path but with perseverance and a healthy outlook on life, you can overcome it.
If you are looking for a novel that will make you want to call your closest childhood friend, then pick up Alex George's wonderful novel,
Setting Free the Kites.

Google+