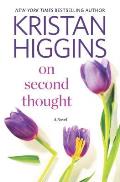 Author: Kristan Higgins
Series: None
Publication Date: January 31, 2017
Publisher: HQN
Pages: 455
Obtained: publisher via Little Bird Publicity
Genre: Contemporary Fiction, Contemporary Romance
Rating: 3.75/5
Bottom Line: A novel about how to find your home and make peace with your path in life


G

rab,

J

ust get it at the library, or

R

emove from your TBR list? Library
Summary:
Ainsley O'Leary is so ready to get married—she's even found the engagement ring her boyfriend has stashed away. What she doesn't anticipate is being blindsided by a breakup he chronicles in a blog…which (of course) goes viral. Devastated and humiliated, Ainsley turns to her older half sister, Kate, who's struggling with a sudden loss of her own. Kate's always been the poised, self-assured sister, but becoming a newlywed—and a widow—in the space of four months overwhelms her. Though the sisters were never close, she starts to confide in Ainsley, especially when she learns her late husband was keeping a secret from her. Despite the murky blended-family dynamic that's always separated them, Ainsley's and Kate's heartaches bind their summer together when they come to terms with the inevitable imperfection of relationships and family—and the possibility of one day finding love again. ~amazon.com
Review:
On Second Thought
s about redefining yourself after unexpected events happen. For me though, it was more about the complex family relationships, especially between Kate and Ainsley. It's not that Kate was mean to Ainsley but more that she was indifferent. Their older brother Sean was more removed from Ainsley and never really wanted anything to do with her. For him, she was the little sister.
Kate and Ainsley couldn't be more different. Kate has been an independent woman for year before meeting and falling in love with Nathan. Ainsley has been in love with and catering to Eric's every whim for 11 years. They aren't even married and she already keeps house while maintaining a job, even if it isn't as demanding as Eric's. With Nathan's sudden death Kate can't help but wonder if she would have been better off never meeting him and falling in love with him. His death sends her reeling and questioning her choices in life.
When Eric dumps Ainsley very publicly, she is a little lost and questioning how she could have been a bit blind about him all these years. Ainsley doesn't let it keep her down for long though; she is the poster child for resilience.
As Ainsley and Kate live together they begin to bond and appreciate each other in ways that weren't possible. Instead of Kate finding Ainsley's unwavering happiness annoying, she sees it as a good thing that her sister sees the best in every situation. Ainsley sees Kate for what she is; smart, independent, strong.
I really enjoyed the development of the sister's relationship for me that was the focus of the book. I mean you could see the romantic relationships that were going to define the novel a mile a way but they were still a fun ride.
Kristan Higgins books are the best kind of escape for me. They isn't too much fluff but enough to make it interesting. The center of this book is really about family relationships and I think that can resonate with all of us.

Google+