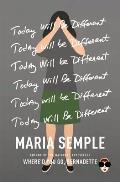 Author: Maria Semple
Series: None
Publication Date: October 4, 2016
Publisher: Little, Brown & Company
Pages: 272
Obtained: publisher via Edleweiss
Genre: Contemporary Fiction
Rating: 3/5
Bottom Line: Disappointing


G

rab,

J

ust get it at the library, or

R

emove from your TBR list? Library
Summary:
Eleanor knows she's a mess. But today, she will tackle the little things. She will shower and get dressed. She will have her poetry and yoga lessons after dropping off her son, Timby. She won't swear. She will initiate sex with her husband, Joe. But before she can put her modest plan into action-life happens. Today, it turns out, is the day Timby has decided to fake sick to weasel his way into his mother's company. It's also the day Joe has chosen to tell his office-but not Eleanor-that he's on vacation. Just when it seems like things can't go more awry, an encounter with a former colleague produces a graphic memoir whose dramatic tale threatens to reveal a buried family secret. TODAY WILL BE DIFFERENT is a hilarious, heart-filled story about reinvention, sisterhood, and how sometimes it takes facing up to our former selves to truly begin living. ~amazon.com
Review:
Today Will Be Different
was disappointing in a nut shell. I rushed to finish it just to finish it, if that tells you something. I felt that a book that was 272 pages was something I could quickly get done. I tell you most of these 272 pages were painful. I didn't connect with anyone in the story. I kind of felt that they were all caricatures of someone Ms. Semple knows.
I totally go where Eleanor was coming from. Trying to change how you look at life can be challenging and sometimes the little mantras help out. Let's face it though, Eleanor was a bit too far gone to have a mantra change her life. I found her to be scattered and completely self-centered. Heck she didn't even know what was going on with her husband. Also not for one minute do I believe she accepts her husbands change of heart regarding something they were both aligned on.
The mystery of the secret Eleanor was keeping was a bit disappointing after all the build up. I thought it was going to be a bit more dark.
If you are hoping for another Bernadette, look elsewhere because Eleanor isn't the heroine I was looking for.

Google+