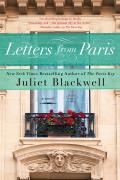 Author: Juliet Blackwell
Series: None
Publication Date: September 6, 2016
Publisher: Berkley
Pages: 384
Obtained: publisher via Netgalley
Genre: Contemporary Fiction, Historical Fiction
Rating: 3.75/5
Bottom Line: A bit predicatable but enjoyable journey


G

rab,

J

ust get it at the library, or

R

emove from your TBR list? Library
Summary:
After surviving the accident that took her mother's life, Claire Broussard has worked hard to escape her small Louisiana hometown. But these days she feels something is lacking. Abruptly leaving her lucrative job in Chicago, Claire returns home to care for her ailing grandmother. There, she unearths a beautiful piece of artwork that her great-grandfather sent home from Paris after World War II. At her grandmother's urging, Claire travels to Paris to track down the century-old mask-making atelier where the object, known only as "L'Inconnue"—or The Unknown Woman—was created. Under the watchful eye of a surly mask-maker, Claire discovers a cache of letters that offers insight into the life of the Belle Epoque woman immortalized in the work of art. As Claire explores the unknown woman's tragic fate, she begins to unravel deeply buried secrets in her own life. ~amazon.com
Review:
Letters from Paris
is the story about what happens when you decide to ditch your life and go to research something that you found in your grandmother's attic. It's what happens when the most important person in your life holds something major from you.
Claire is brought back home to Louisiana to help tend to her grandmother as she is not long for the world. Her Grandmother tells Claire that once she passes she must go to Paris and research the mask that has been up in the attic for decades. She pretty much demands that Claire goes. So shortly after her grandmother passes, Claire leaves for a vacation in Paris but with no job and no where to go is it really just a vacation for her?
Claire spends most of her time as a tourist but when she can help in the altier where the mask was made and sold, she jumps at the chance to help them out of a bind by working in the shop. This allows her access to some the newspaper clippings about the history of "L'Inconnue". She desperately wants to figure out who this woman was instead of the mystery surrounding her.
I will say that most of the story didn't come as a surprise for me. I expected the romance and I figured out the connections to L'Inconnue fairly quickly. There is one plot line that I wasn't expecting and really came out of nowhere but made complete sense in the grand scheme of the novel.
I did like how Claire finally really took control of her life and figured out what she wanted. I'm sure it's what she had thought her life would be but that's not always a bad thing.
If you love Paris and it's history then you will definitely want to check out
Letters from Paris
.

Google+