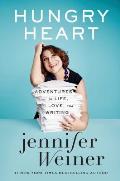 Author: Jennifer Weiner
Series: None
Publication Date: October 11, 2016
Publisher: Atria Books
Pages: 416
Obtained: Publisher
Genre: Memoir
Rating: 4.50/5
Bottom Line: A great read for her fans and there will be something to speaks to anyone who reads it


G

rab,

J

ust get it at the library, or

R

emove from your TBR list? Library
Summary:
Jennifer Weiner is many things: a bestselling author, a Twitter phenomenon, and an "unlikely feminist enforcer" (
The New Yorker
). She's also a mom, a daughter and a sister, a former rower and current clumsy yogini, a wife, a friend, and a reality-TV devotee. In her first essay collection, she takes the raw stuff of her life and spins it into a collection of tales of modern-day womanhood as uproariously funny and moving as the best of Nora Ephron and Tina Fey. Born in Louisiana, raised in Connecticut, educated at Princeton, Jennifer spent years feeling like an outsider ("a Lane Bryant outtake in an Abercrombie & Fitch world") before finding her people in newsrooms, and her voice as a novelist, activist, and
New York Times
columnist. No subject is off-limits in these intimate and honest stories: sex, weight, envy, money, her mother's coming out of the closet, her estranged father's death. From lonely adolescence to modern childbirth to hearing her six-year-old daughter say the f-word—fat—for the first time, Jen dives deep into the heart of female experience, with the wit and candor that have endeared her to readers all over the world. Hilarious and moving,
Hungry Heart
is about yearning and fulfillment, loss and love, and a woman who searched for her place in the world, and found it as a storyteller.
Review:
Hungry Heart: Adventures in Life, Love, and Writing
is a love letter to herself, her family, and her fans. She is everything you love about her. She's a honest, a bit brash at times and funny. That doesn't meant that I didn't shed some tears because I did but she finds humor in even the worse situation. It's what I truly adore about her. I've met her several times and she's the real deal; she's as genuine as they come.
Jennifer tells of her struggles with her identity as a young girl who was perhaps bigger in size than what she wanted to be and how no matter what she did, it wouldn't change. Plus she liked food. Not only was it her safety zone but she really didn't understand people who could just stop eating. It wasn't that she wasn't healthy and strong, she was on crew, it was just that she was bigger. That's hard when you are a teen and a young adult. In some ways it held her back, until she said F-it and just started being herself. For those of us that struggle with our weight, these chapters will hit home. This is where I felt that she was speaking to me. Her written word resonated with me, profoundly.
She speaks of her diabolic relationship with her father, whom was in and out of her life. When he was in, it was to ask for money. He wasn't always the monster he turned into. In fact, she can remember times when she was younger and he was a great father. He read to them, tucked them in and encouraged them. His decent into mental illness had a huge effect on her and her siblings as one might imagine.
Anyone who is a fan, has heard her talk about her mom, Fran. Usually colorful antidotes about her being a lesbian and how they were all shocked but it made sense as they reflected back. She talks about her daughters and how motherhood was a difficult adjustment for her. How her first daughter Lucy, wasn't easy and how Phoebe was the complete opposite.
She talks about her marriage to Adam and then her subsequent re-kindling of her relationship with Bill. How she's happy and in a good place. She's an outspoken feminist and will go down on the sword for what she believes in.
I don't think any of these stories and messages will surprise her fans but I loved reading about them all at once and with her humor and take on things. If you are a fan, then you won't want to miss
Hungry Heart: Adventures in Life, Love, and Writing
. I'm now ready for her next novel!

Google+