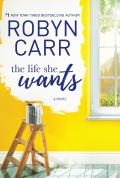 Author: Robyn Carr
Series: None
Publication Date: September 27, 2016
Publisher: MIRA
Pages: 352
Obtained: publisher via Netgalley
Genre: Contemporary Fiction
Rating: 4/5
Bottom Line: A great read about how sometimes falling from a pedestal helps you find who you are


G

rab,

J

ust get it at the library, or

R

emove from your TBR list? Grab
Summary:
In the aftermath of her financier husband's suicide, Emma Shay Compton's dream life is shattered. Richard Compton stole his clients' life savings to fund a lavish life in New York City and, although she was never involved in the business, Emma bears the burden of her husband's crimes. She is left with nothing. Only one friend stands by her, a friend she's known since high school, who encourages her to come home to Sonoma County. But starting over isn't easy, and Sonoma is full of unhappy memories, too. And people she'd rather not face, especially Riley Kerrigan. Riley and Emma were like sisters—until Riley betrayed Emma, ending their friendship. Emma left town, planning to never look back. Now, trying to stand on her own two feet, Emma can't escape her husband's reputation and is forced to turn to the last person she thought she'd ever ask for help—her former best friend. It's an uneasy reunion as both women face the mistakes they've made over the years. Only if they find a way to forgive each other—and themselves—can each of them find the life she wants. ~amazon.com
Review:
The Life She Wants
is a great story about how to rebuild your life when you've hit your low point, maybe even rock bottom.
Emma Shay Compton moves home to outside Napa Valley from her high life in New York City. She comes back west with not much in her pocket and no job within reach. She has little contact with her family and has lost touch with most of her friends. She hasn't had it easy at all but people don't necessarily see that. They see a rich girl who know about her husband's transgressions. It isn't until Emma bumps into old friend Adam Kerrigan that her life starts to turn around but first she has to approach her old best friend for a job. In order to do that, she needs to learn to let go of the past and put her pride behind her. Can she move forward from two of the worst events in her life? She needs to in order to be able to be happy.
Riley Kerrigan hasn't had it easy since she turned 18 and became a single mom but she's put her life into raising her daughter and building up her business. She owns a successful cleaning business but she's lonely. Having Emma back in town throws her into an emotional spiral. It's making her wonder why everyone is so happy to have Emma back and what makes her so special? Riley's been here the past 18 years and she's feeling a little out of sorts and jealous as well.
What I liked about Ms. Carr's writing is that it felt like real life and friendships. Friendships are complicated even after years to let go of the history. The ending might have been a little too neat but I was happy to see how it unfolded.

Google+