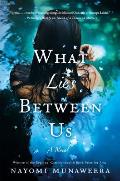 Author: Nayomi Munaweera
Series: None
Publication Date: February 16, 2016
Publisher: St. Martin's Press
Pages: 320
Obtained: publisher
Genre: Contemporary Fiction
Rating: 4.75/5.0
Bottom Line: Heartbreaking and honest look at how experiences shape us


G

rab,

J

ust get it at the library, or

R

emove from your TBR list? Grab!
Summary:
In the idyllic hill country of Sri Lanka, a young girl grows up with her loving family; but even in the midst of this paradise, terror lurks in the shadows. When tragedy strikes, she and her mother must seek safety by immigrating to America. There the girl reinvents herself as an American teenager to survive, with the help of her cousin; but even as she assimilates and thrives, the secrets and scars of her past follow her into adulthood. In this new country of freedom, everything she has built begins to crumble around her, and her hold on reality becomes more and more tenuous. When the past and the present collide, she sees only one terrible choice. ~Amazon.com
Review:
What Lies Between Us
will break your heart from some of the very first pages of the novel and it really won't repair it. Ms. Munaweera will stitch it up a bit during the middle of the book but then she'll rip those open in the end. I'm not saying that you shouldn't read this book, I'm saying the contrary. You need to read this book. It is a powerful story about cultural differences and what it means to be a woman in those cultures. It is also about motherhood and how there's a stigma out there that being a mother means you need to be perfect. Ms. Munaweera stresses that there are no perfect mothers, that we all are at fault in one way or another but that we should support each other.
This beautifully written novel is told in the form of flashbacks to the woman's childhood in her country of Sri Lanka. She leads a fairly easy life with her mother, father and servants. Her mother can be moody and standoffish but she never was without love. She might have been starved for her mother's affections at times but she knew her mother loved her. She had friends and her life is full. Until her life suddenly falls apart; because of the culture and patriarchal society, her mother and her pick up and move to the United States.
We see the main character grow from a young girl to a young women to a young mother. We experience her heartbreak and her joy from her point of view. We only know her story through her eyes, through her experience. You empathize with her because of all she's been through. You know that she's done something horrible but it isn't until all the pieces start to be put together that you cringe and hope that it's not going to go down that path.
This book left me gutted and it will stay with me a long time. Ms. Munaweera tackles many issues in the novel that are not easy to read about. I closed the book bawling because the main character didn't have to end up where she was if perhaps she was more open about what she had been through but here is where the cultural differences come into play big time. It is a book about being a woman and what that means.
I can't wait to see what Ms. Munaweera writes next because her writing is some of the most powerful that I've ever read. Her books will stay with me forever.

Google+